Some tools are important for a DIY home project. However, some tools are a necessity for every household even if they are not engaged in DIY home renovation projects but general home improvements. Some of the most required home improvement tools can be seen on our blog where we talk about the Top 10 home care tools that will save you time and money. Out of the suggested 10, we have sorted out the two most used and sought after power tools that include a grinder and a sander. We have come up with a list of sander and grinder that you can use for home improvement projects. Let's go through the list!
Let's go through the list of the grinders first!
1. 18-Volt ONE+ Cordless Brushless 4-1/2 in. Cut-Off Tool/Angle Grinder
Whether you're working on a plumbing job or are cutting metal down to size for a garage or other home improvement project, keep the Ryobi cordless grinder in mind. This powerful, cordless grinder can slice through a variety of metals with ease and accuracy. With a motor driving the grinding wheel up to 10,400 RPM (No-load), you're sure to cut through PVC, piping, welded metals, and more. Replacement is easy with the inclusion of an onboard spanner wrench. Keep multiple wheels on hand for whatever job comes up, and you can have them replaced in seconds. The grip zone over-mold lets you maintain a tight hold, even in slippery conditions and even the guard is adjustable, letting you work from the ground or on a ceiling without too much exposure to sparks. You can find this version at homedepot.com.
Features:-
Cutter/grinder with lock-on switch and powerful brushless motor
Includes: Grinding Wheel, Side Handle, and Spanner Wrench
Easy to use
Compatible with all batteries in the RYOBI 18-Volt ONE+ System
2. Grinder with Paddle Switch
M18 FUEL 18-Volt Lithium-Ion Brushless Cordless 4-1/2 in. / 5 in. Grinder with Paddle Switch
A high-grade version of the 18-volt one as it boasts the M18 Fuel technology. This version is also a cordless one which makes it portable. You can grind PVC, wood and light metal surfaces at various angles. A grip plus blade guard allows precision as well as safety while you operate this red beauty. You can find this version at homedepot.com.
Features:-
Delivers maximum power
Up to 10Xlonger motor life
Tool-free accessory change and adjustable guard
Easy to use for precision cutting and grinding
Fully compatible with the M18 system, featuring over 200+ tools
3. Right Angle Die Grinder
M12 FUEL 12-Volt Lithium-Ion Brushless Cordless 1/4 in. Right Angle Die Grinder

The 0.3 HP output and RPM control features make this the ideal grinder for the amateur DIYer. However, do not be mistaken as it is more powerful than pneumatic grinders and easily replaces the compressor and hoses making it lightweight and easy to use. The most compact cordless die grinder that Fits in tight spaces satisfying user needs by allowing portability and precision at the same time. It provides a 10 minutes continuous runtime on one 2.0 battery which can be replaced with a spare one and can also be charged easily without any hassle. Furthermore, RPM Control Allows Users more control in delicate applications. You can find this version at homedepot.com.
Features:-
20% More Power Than Pneumatic
4-Mode Speed Control: Optimized for 2 in. Accessories
Part of the M12 System, featuring over 100+ tools
4. Lithium-Ion Cordless 4-1/2 in. to 5 in. Grinder
20-Volt MAX Lithium-Ion Cordless 4-1/2 in. to 5 in. Grinder
This specific model features a 7,000 RPM motor that provides high power for cutting and grinding applications. A Quick-Change wheel release allows for tool-free wheel changes without the need for a wrench, and the tool-free guard allows for quick, easy guard adjustments/positioning. It offers a 2-finger trigger switch with lock-off button for convenient activation and easier gripping, along with a 2-position side handle offers greater control, comfort & versatility. It can be used for cutting metal, threaded rod, rebar with Type 1 cut off wheels, Finishing metal with wire stringer bead wheels, sanding flap discs, and Grinding metal with 1/8 and 1/4 hubbed or depressed center wheels. All these features make it a true all-rounder. You can find this version at homedepot.com.
Features:-
8,000 RPM motor w/ adjustable handle position
2-finger trigger switch with lock-off button
Easy to operate
Quick-Change™ wheel release allows tool-free wheel removal
Now, let us go through 4 Sanders that we believe are the ideal choices for a DIY home renovation enthusiast like you!
1. Pen Sander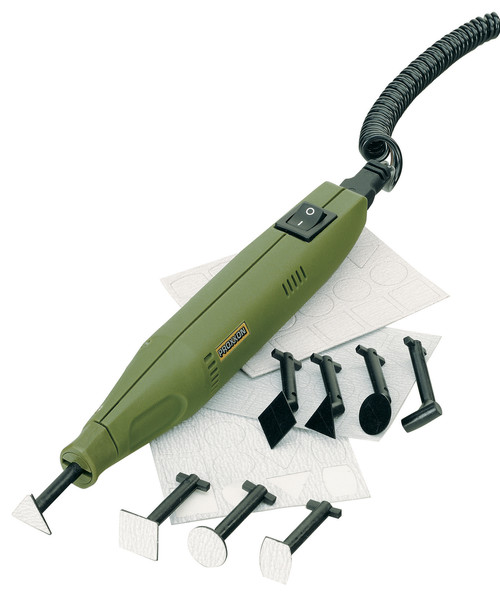 Proxxon 28594 12 Volt Pen Sander
Pen sander is a high-speed portable tool that can be used for precise and detailed engraving. It is ideal for engraving in glass, metal, wood, and plastic. The pack comes with one 5/64″ spherical shaped diamond head bit. It runs on 12 volts and is a must-have for DIYers of all caters. It can easily be purchased online from houzz.com.
Features:-
Portable
Durable
Superfine sanding, shaping or sawing
Ideal for surfaces, slots and tight corners
Includes 4 sanding attachments with straight shanks and 4 with angled shanks
2. Electric Drywall Sander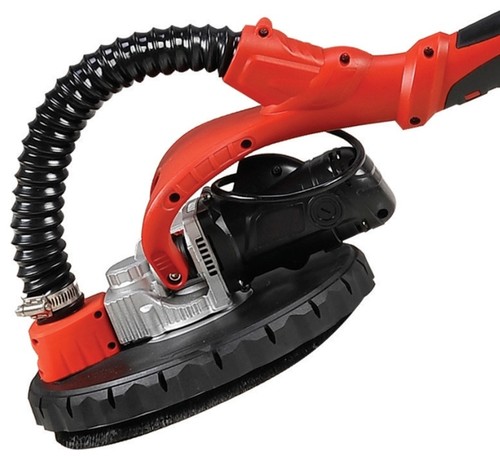 Aleko ETL Approved Electric Drywall Sander 690L
Aleko 690L is designed to help sand larger and hard to reachareas that would be too cumbersome, time-consuming, and difficult to sand using a traditional hand sander. The Aleko 690L model features a telescopic handle that allows you to get to hard to reach places with ease. The LED light offers brighter working conditions and gives you better visibility in dark places. Roof suction power decreases the weight of the machine. Rubber rounded handle is soft to the touch and comfortable to work with. It can easily be purchased online from houzz.com.
Features:-
Telescopic Handle; LED light offer brighter working condition
Roof suction power decreases the weight of the machine.
690L has no drive shaft, no power-loss
Rubber rounded handle comfortable to touch.
Input power: 750W, 6 Sander Discs included.
ETL Approved. No-load Speed 450-1100 r/min; Weight: 9.5 pounds
3. Belt Sander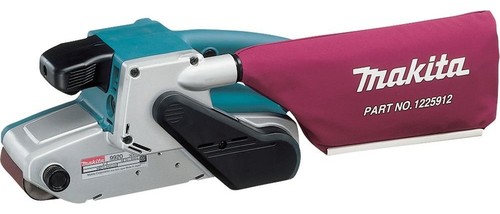 Makita's 3 x 24in. Belt Sander, model 9920, combines power and speed with ease-of-use features and less noise for fast and efficient stock removal. The 9920 is ideal for woodworkers, carpenters, furniture makers, floor installers, deck builders and general contractors who require a best-in-class belt sander. The 9920 features a powerful 8.8-amp motor with electronic speed control to maintain constant speed under load. The variable speed control dial allows the user to match the speed (690-1,440 ft./min.) to the application. The 9920 also features less noise: at only 84dB, it is one of the quietest sanders in its class. It can easily be purchased online from houzz.com.
Features:-
Variable speed control dial (690-1,440 ft./min.) to match the speed to the application
Electronic speed control maintains constant speed under load
Auto-tracking belt system tracks belt without adjustment
Innovative design for sanding flush to the wall with nose and side of sander
Front grip design for comfortable operation
Powerful 8.8-amp motor; only 84dB
Dust bag for a cleaner work environment
Long 16.4 ft. power cord for easier maneuverability
4. Simple Sander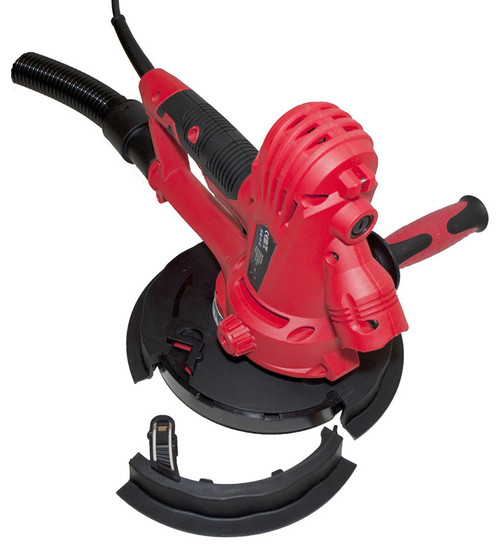 Aleko Drywall Sander DP-700A With Vacuum and LED Light
This is a powerful heavy-duty industrial drywall sander with vacuum and led light. It's comfortable to use, with a soft-grip handle and controllable speed button for adjusting the speed from 1200 to 2300 rpm. It comes with a hose, 6 sanding discs and easy to carry dust bag. The drywall sander has an LED light that allows you to work in dark environments. The detachable brush segment comes off to allow easy access to corners and edges. You can also adjust the suction power on the vacuum, according to the intended operation. Compact and easy to use and carry. It can easily be purchased online from houzz.com.
Features:-
Variable speed: 1200-2300 rpm
Output Power: 800W
Weight: 6 lb. (2.7 kg)
Built-in vacuum
6 Sanding Discs, dust bag and Hose included
1 Year warranty
Total Page Visits: 179 - Today Page Visits: 3