Give your bathroom's ceramic tile a fresh new look by revamping it instead of replacing it. Tile decals, which add a stylistic touch without requiring a lot, are even safe for rental homes since they are removable. Repaint some or all of the tiles in the dry areas of the bathroom, away from the tub or shower, to add patterns and designs or to completely change their color. However, in case you want professionals to handle your renovation you can go through top 10 professional help homeowners need. Getting back to the topic, you can take the following actions:-
Updating Your Bathroom Tiles
The following steps will enable you to update your bathroom tiles in the best possible way: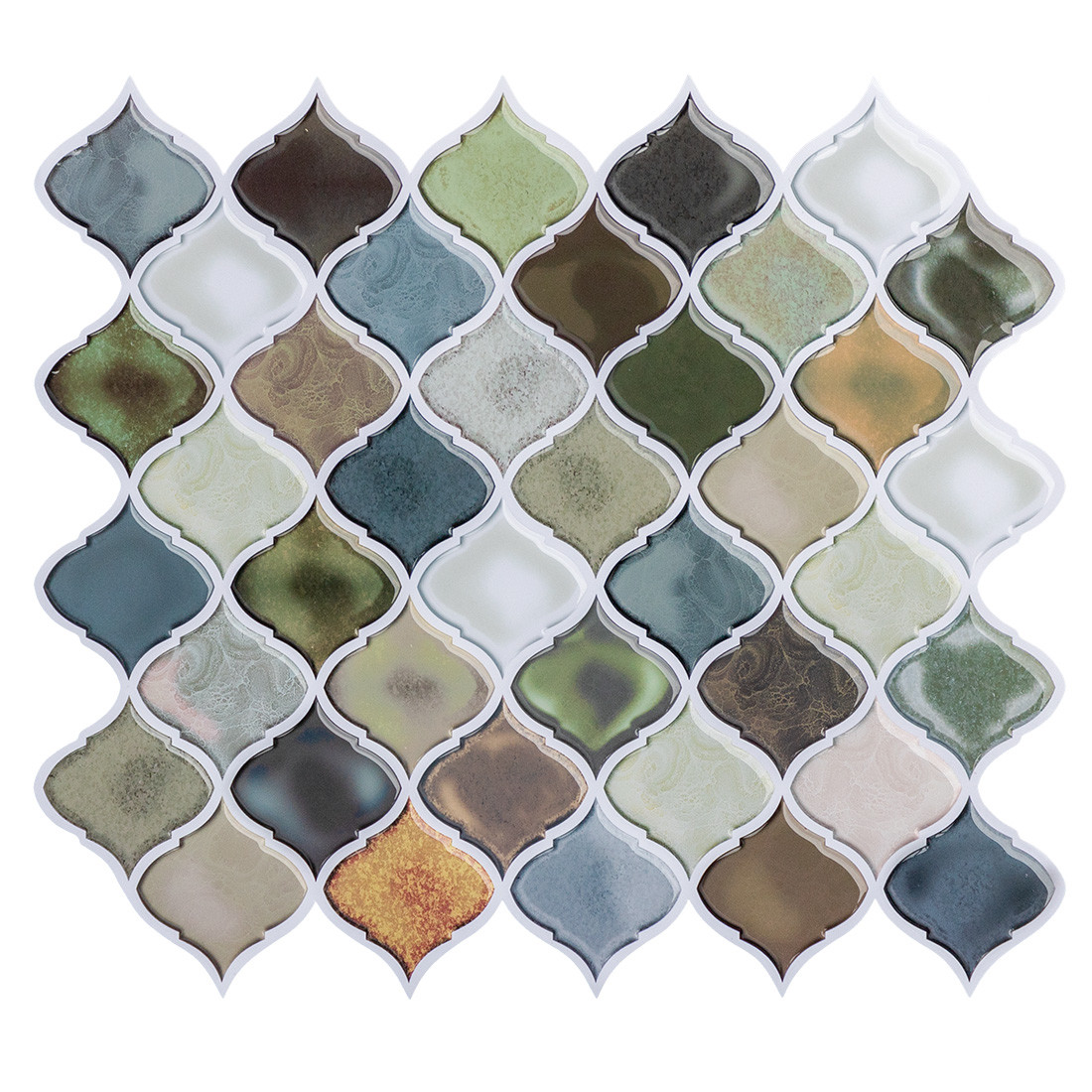 Add a new theme or accent details to the bathroom walls with decals. Decals designed specifically for tiles adhere to clean ceramic tiles, or make your own from your favorite color of contact paper by drawing a design on the backing paper and cutting it out. For a beach-themed bathroom, for instance, use decals featuring a beach chair and umbrella or several seagulls in flight. Shell and seahorse shapes give the room a bit of underwater appeal. If you prefer patterns to designs, choose waves, chevrons or even a pattern of paw prints traveling across the top row of tiles above the bathroom sink. Removable wall decals may also be used on the ceramic tile; check the decal size before purchase to ensure each decal fits within the space of one bathroom tile. Some decals may peel away if used in wet areas such as the shower or tub surround; for best results, use them in other areas of the bathroom. You can check these decorative decals from ebay.
Give the bathroom tile a completely new color to upgrade your environment, whether it's on the floor, the walls, or both. Painting works best away from the tub and shower, where excessive moisture may make it peel away prematurely. For a minor update, paint the top band of tile a new color, such as cobalt blue, to add a fresh new accent to space, or paint an entire wall's worth of tile for a new look. Sand the tile gently to scuff it up and make it receptive to primer. Wear a dusk mask to avoid breathing in dust; then wipe the tiles down with a soft rag. A bonding primer is a key to getting paint to stick well to the tile; once that dries, use a latex semi-gloss or gloss paint to ensure the paint finish holds up well to moisture. Apply a water-based polyurethane sealer over your work after the paint dries for several days — especially on floor tile — to prolong the paint finish. You can also change the color by using this Shell Stick on mosaic from Amazon.
Tape or Stencil Treatments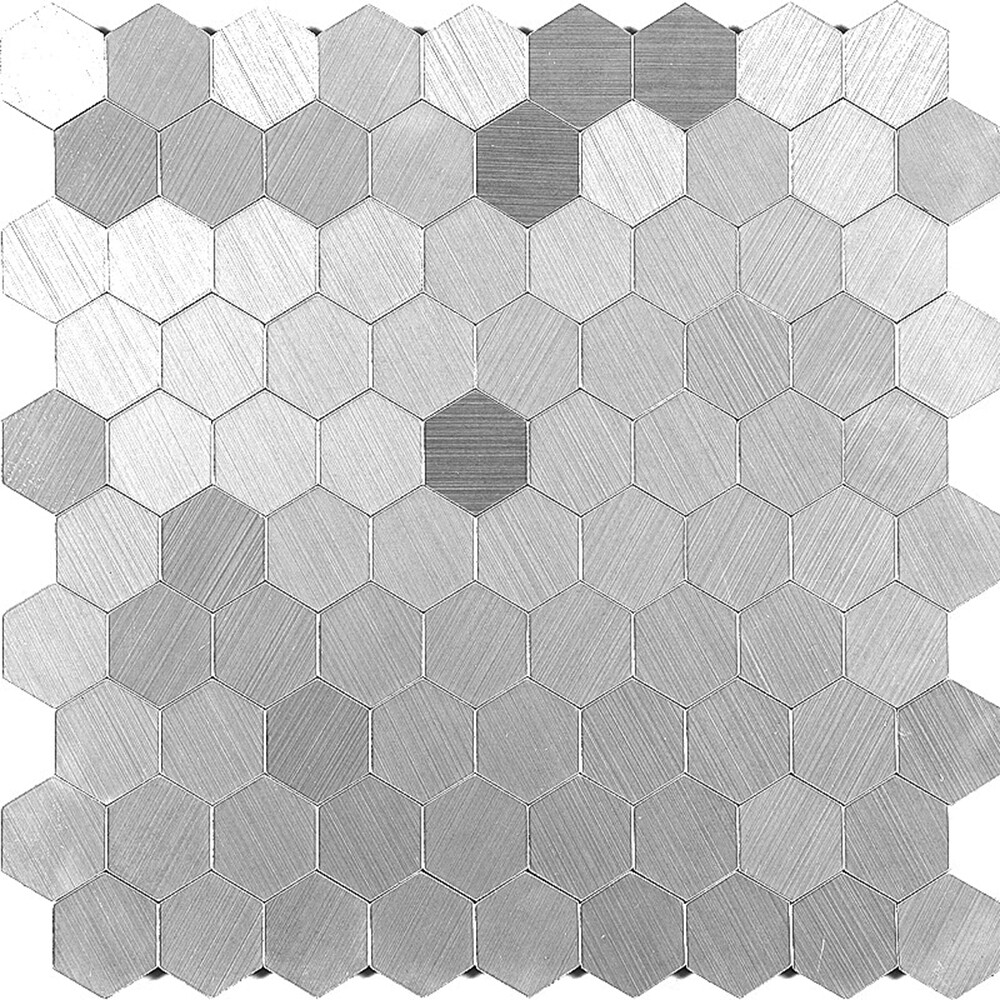 Create designs on the wall using paint and masking tape or stencils for another way to upgrade the tile. For patterns such as chevrons or diagonal stripes, apply masking tape strips to create your chosen layout over clean tiles, smoothing down the tape edges to prevent the paint from bleeding. Apply a bonding primer if you're painting large areas of the tiles to help the paint stick, leaving the tape in place until after you paint. For stenciled designs, use a removable spray adhesive to hold the stencil in place; then apply the paint with a stencil-pouncing brush through the holes in the stencil. Brush paint onto a rubber stamp to stamp designs on the tile. You can also go for a self adhesive tile from Amazon.
Give tiles a bold or colorful makeover with permanent markers. The marker treatment looks best in moderation; use it on select tiles such as a band across the top of a backsplash, or over a few tiles on each wall. Clean the tiles first with mildly soapy water; then wipe them down again with white vinegar or rubbing alcohol. Once the tiles dry, draw your designs, such as rainbow stripes, smiling suns or blades of grass. For a child's bathroom, draw cars, dinosaurs or ladybugs for a themed room. Use decoupage medium or a clear polyurethane sealer to protect your artwork. You can also go for this white porcelain tile from Amazon.
Things to Consider While Updating Your Bathroom Tiles
Part of making a bathroom look as beautiful as possible is choosing the right floor tiles. The floor is one of the few surfaces where you can get pretty creative with the design without worrying too much about negative effects from a functional or practical point of view. There are a lot of different options and lots of different elements to consider before actually making a final decision.
Then of course once you've chosen the bathroom floor tiles comes the installation process which is easier than you might think. You can turn this into a DIY project and with a little bit of guidance, it can be a massive success.
Tiles That Mimic The Look Of Wooden Boards
If you want to give your bathroom a more warm and inviting sort of look it can be a very good idea to use floor tiles that mimic the look of wooden boards. These right here are natural timber ash porcelain tiles and they look fantastic, creating a very homely vibe and complementing this small bathroom and the areas adjacent to it. Before you start permanently installing all the tiles it's a good idea to just lay them all on the floor and come up with a pattern that you like. You might have to cut some of the tiles and make some holes for the pipes to fit through. Once you're happy with the layout you can put each tile in place.
Only Changing Bathroom Floor Tiles
The floor tiles can change the way a bathroom looks so if you ever want to make a change this can be a really good makeover idea. Everything else can remain the same but even so, when the new tiles are in place, the whole room will look different than it did before. Anyway, if you want to go fora modern yet also a bit vintage look, consider hexagon floor tiles similar to these. They form a lovely honeycomb pattern that looks beautiful without being too busy. As far as the actual installation process goes, you're going to need a few tools, the most important one of all being a tile saw. You can rent this one and everything else should be pretty easy to find at any local store.
There's also a nice remodel project described on create-enjoy which also involves hexagon tiles. It's the same honeycomb pattern we described earlier but this time with lighter-colored grout which gives the bathroom a more uniform and clean look, better-suited for a modern home. The tools and supplies used throughout this project are more or less the standard ones and include tile cement board, cement board screws and a special scoring knife, mortar, grout, a trowel, a tile cutter, a bunch of grout-related accessories and an oscillating tool for cutting the door frames in case you need to. The bathroom floor tiles fit in like puzzle pieces for the most part. Once the big pieces are in place you can finish the project off by cutting and adding the little edges and corner pieces.
Use Marble Bathroom Tiles
Marble bathroom tiles look beautiful, retaining that classic and timeless look and elevating the entire space. If you're a marble fan you should consider doing this for your bathroom. The tricky part, in this case, is that you might not be able to find the tiles in the right size or shape but that's entirely ok because you can cut them yourself. Start with large rectangular tiles which are easy to find and quite cheap. You can cut 12 x 12 tiles into thirds and they'd be a perfect size and shape for a home furnishing tiles from Amazon.
Installing Brick Floor On Top Of The Existing Tiles
There's also a way to redo your bathroom floor without getting rid of the old tiles, since that's messy and can cause all sorts of complications. The idea is to install brick floors on top of the existing tiles. This process is fast is pretty easy. Of course, you'll want to use a thin brick veneer so you don't elevate the bathroom floor too much. Pick out the bricks that you want to use, lay them across the floor to make sure you like the placement and the pattern and then install them in place.
Painted Stencil Idea – No Retiling Required
If you want to refresh your bathroom floor tiles without actually replacing them that's understandable too. There's a way to do that without having to remove or replace any of the tiles. The trick is to use a stencil. You'd be painting over your existing floor tiles giving them a whole new look. This works best if you have plain white tiles or just a solid color as a background as opposed to a pattern. Naturally, you need to first clean the tiles before you start applying the stencil.
Final Words
Therefore, if you are looking for a low-cost solution to renovate your bathroom, you can do it with updating the tiles. Moreover, you can always pick up removable tiles and move if you have to. Therefore, it is a solution you can take every time you move. Get the best available tiles and renovate your bathroom so it becomes close to a new one!
Total Page Visits: 524 - Today Page Visits: 3