Overview
A kitchen is an essential part of a house, and a beautifully constructed kitchen surely gives a pleasing look. Tiles play a crucial role in increasing the beauty of your kitchen. There are a variety of tiles available in the market, ranging in different sizes, looks, and prices. To tile your kitchen that looks good; you need to follow a specific symmetrical arrangement. If you are serious about tiling your kitchen properly, you can visit stores like Houzz, Amazon, and Build, etc to get good quality products and get your job done professionally.
Tiles will rarely fit the dimensions of the kitchen, and a certain amount of waste is generally acceptable. Good tile fixers try to make the amount of trash as minimal as they can. However, it also depends on the size of the tiles that you are using. The larger the tiles, the more waste is accepted, but a lesser number of tiles would be required to cover all the areas.
Tools You Will Need
You may already have several devices in your home or could borrow them from someone. Not many tools are required to fix tiles on the floor. Given below is a list of tools that you are probably going to use:
Electric Tile cutter.
Rubber hammer.
Measuring tape.
Alignment gauge.
An electric tile cutter is an essential tool required for cutting the tiles. Our recommended electric tile cutter is Leegol Electric 7-Inch Tile Cutter which is available on Amazon. It has a wet abrasive disc that cuts, cools, and lubricated during the cutting process. Using an electric cutter will eradicate the wastage of pipes due to breakage, and will help in quickly cutting complex shapes.
Tile the Wall or Kitchen Floor First
Before beginning to tile your kitchen floor, you should try to fit and level your kitchen units. Fitting the units and worktops before flooring will prevent any damage dueto the fall of heavy objects. Next, the step is to plan where to start the tiling part of the wall or complete the wall. If you are tiling the whole room, then tiles will need to be aligned right around the room first, and you will need to mark out a horizontal guide. Preparation involves clearing away any dust or friable surface material to ensure a good grip. Some walls may also need priming to reduce suction drying out the adhesive before it cures properly. Blue 13″x13″ Faventia Ceramic Floor/Wall Tiles at Houzz is the perfect choice for everyone.
Make a Gauge
To make a tile gauge, you could easily use a length of 1.5 cm wood marked out. I am considering a situation where you are using a rectangular kitchen wall tiles and layout a column of tiles on the floor, with the spacers in between — now using the wood mark out the position of the tiles. Repeat the process for a row of tiles using the opposite side of the wood to create a double gauge.
Start Tiling Your Kitchen
To start tiling your kitchen, you should always begin with part tiles used for splash-backs above your kitchen tops. Try to use complete tiles on the top row and partial tiles just above the worktop. Also, check window sills, doorways, and external edges will come in advance as narrow filler strips at an advantage may be difficult to affix and could be prone to cracking. Now start leveling your floor and start with the level of the lowest complete tile and then attach a horizontal batten as a baseline.
Apply Adhesive
To fix the tiles in their place, you needan adhesive like tile bonds. The tile bonds are also available in a variety of qualities. Now, to begin with, take an even thickness of adhesive, apply it on the back of the floor facing the floor, and spread the glue using a suitable toothed spreader. One of our recommended adhesives for this purpose is Dap 25190 Weldwood Tile Adhesive available on Amazon.
Make sure to cover a manageable area between half and one square meter, depending on the size of the tile. Attach the first tile using an adhesive. Use vertical batten to keep your tiles aligned. Now continue to attach all the other tiles in the first row using tile spacers, and lastly, use a rubber hammer to keep an even level of each tile. Follow along with the second row using spacers and use the spacer to keep the second row aligned with the first row.
Fit Partial Tiles
Now fit partial tiles onto the places where gaps are left. If possible, prepare them beforehand using a tile gauge so that the delay between applying adhesives and installing tiles remains minimal.
Tiles Around The Walls
Now you tile around the kitchen using the baseline as a guide. You should wait until the tile adhesive cures, then remove the baseline batten and fit the partial tiles to fit the bottom gap.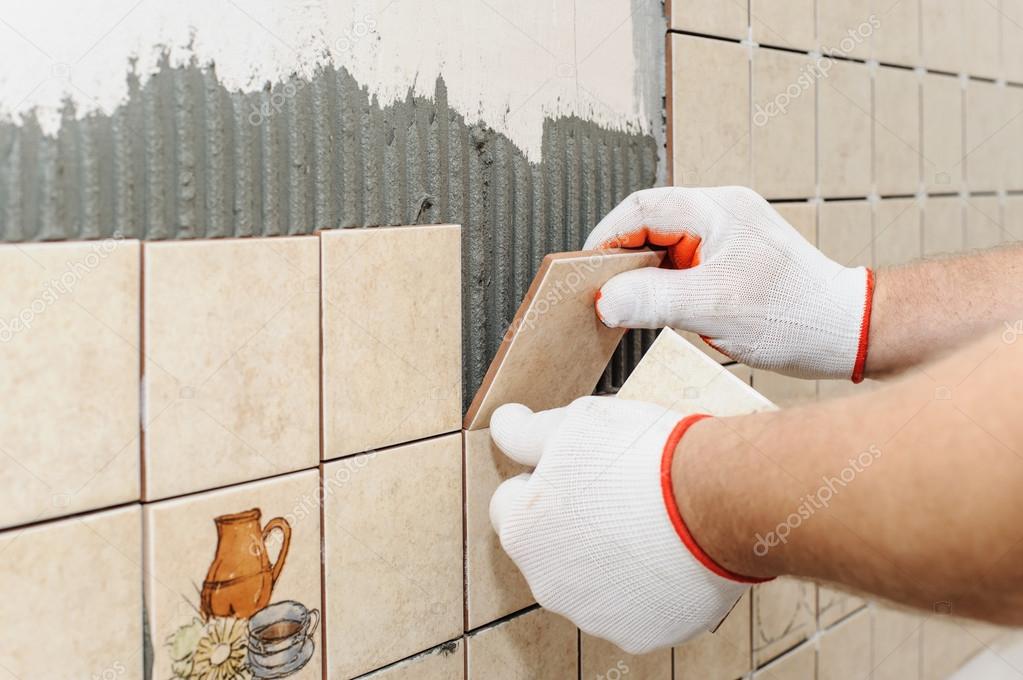 Fit for the Edging Strip
Nowadays, wall tiles are usually edged with a plastic or metal beading trim. Apply the edging strip to the wall and attach them with adhesive in their place. Fit the last row of tiles with a few millimeters edging above its closed position, then slide into place and make sure the tiles fit correctly. You can also use the rounded edging for external corners such as window surrounds and tiling around columns to create an attractive edge finish.
Finally, Get A Protective Finish
Wait almost 24 hours for the floor tile adhesive to cure or set and then prepare your floor tile grout or use a suitable ready mixed grout. Apply the grout using a sponge in all directions. Make sure to seal the tile edges with grout fully. Use another damp stage to remove the excess grout from the tile surface. Natural stone floor tiles may need prior sealing to prevent grout marks.
Conclusion
To adorn your kitchen, a good tile selection and proper fixing give way to an appealing look. There are several techniques to do so and to make the Kitchen look beautiful in its way, where the right choice depends upon the criteria of your interest. This interest may include the right choice of color, material, and designs. You should hire a proper tile fixer to do so. But if it's out of your budget, then the techniques to do so are available.
Total Page Visits: 227 - Today Page Visits: 3