Storms are scary. They can cause serious damages. Planning and preparing ahead of the time is what it requires to deal with such crucial times and to ensure that you and your family remain safe.
Well, there is no need to get tense about the situation as some simple precautionary measures will get things straight and keep you secure and sound. All you have to do is to take some time out to complete your emergency preparation steps, and you are safely through with the severe storm's happenings. These guidelines are pretty simple which should be practice very often so that you stay protected from the potential injuries and misfortunes.
Let us have a look at these protective procedures!!
Creating a Home Emergency Plan
Get all the family members on one table and make an emergency plan. This plan must include all the significant pointers that should be kept in mind and implemented in the time of need; like
1. What are the 'exit points' in the house?
2. In case you all get separated, how you all are going to contact each other
3. Have you got all the details noted of the nearest hospital?
4. What should be the requirements for the person with medical conditions and how he/she should be taken care of?
5.What to do if you have pets in the house
Make sure that everyone in the house is familiar with the plan and it should be reviewed on a regular basis. ALso have emergebcy lights available and chargedall times like the Multi Tool LED Flashlight, All In 1 Tool Light For Emergency By Stalwart, Blue from houzz.com.
Prepare an Emergency Kit
Sometimes the storms can create worst of the situations, and you are forced to leave your place. In such circumstances, you have to prepare an emergency kit that must hold all the necessary items to back you for at least three days.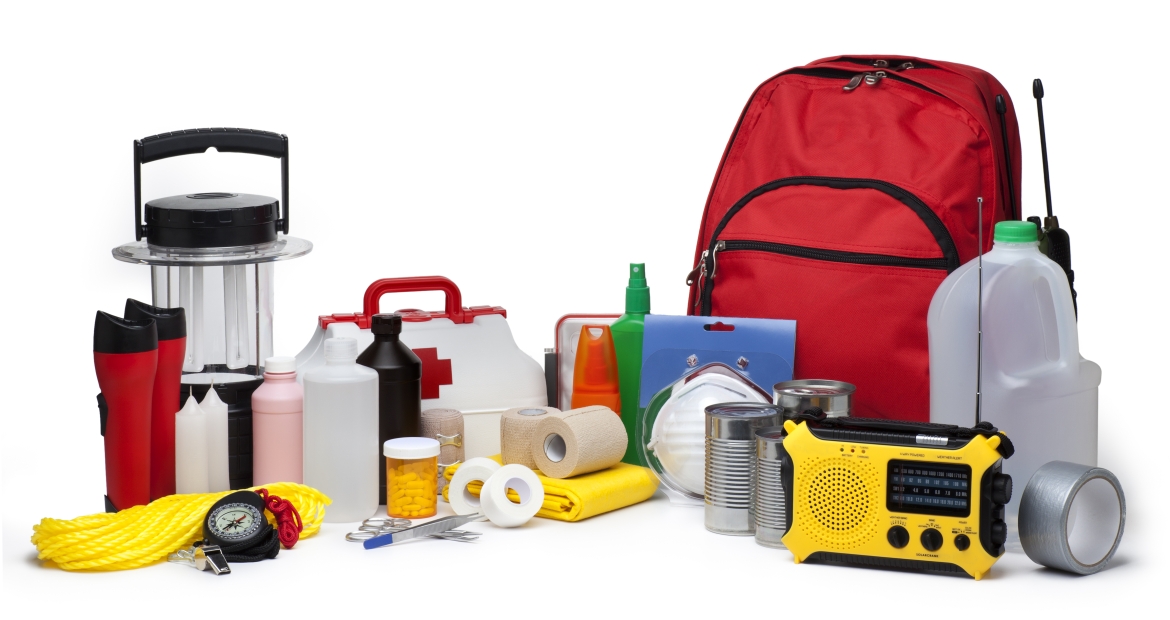 The kit should include;
Battery operated radio to remain updated about the weather conditions
Battery operated torch
Spare batteries, of course
A mobile phone
A portable mobile charger
Sturdy gloves
Waterproof plastic bags
Freshwater bottle and tinned or non-perishable food items
Fuel or gas lamp
First aid kit
Essential medications, prescription drugs, and other health care needs
Necessary documents and cash in a waterproof bag
Supplies for the infants
Spare clothing and shoes
Toiletries
Insect repellent
Food for your pet
All of these items can easily be bought from Amazon.com.
Store Loose Objects
Take a round around your house and identify the things that can be blown with the strong wind. Immediately remove all the loose objects like your garden furniture, playing equipment of your kids, sheds, etc. as they can damage the doors, windows or even the car parked in your porch.
Clean Gutters and Drains to Prevent Blockages
Now, this is a significant step. Blocked drains and gutters can pool up the water that can enter into your property; immensely adding up to your problems. Thus it is highly recommended to clear the leaves and debris around your house in order to keep your gutters and drainage pipes clean, thus eliminating the chances of overflowing after heavy rainfall and allowing water to pass away smoothly. You can use Bioda Drain Cleaner & Odor Eliminator, Professional Strength, 1-Gallon from Amazon.com to keepthem clean all the time.
Trim Down the Branches of the Trees
Severe wind and thunderstorms can break off the branches of the trees that can fall on the rooftop of your house causing some severe destruction. If you have trees planted close to your home that can potentially fall, instantly trim their branches. You can also hire a professional to clear trees.
Moreover, never park your car under or near trees if the strong winds and severe storms are predicted. Use pliers from Stanley 4 piece pliers set or the professional Irvin-vise Grip which is available at Walmart.
Fix the Cracks On your Roof
Check your rooftop very often especially after strong hailstorms. Watch for the cracks and the broken tiles. Replace the broken tiles and fill in the gaps. Damaged roof surface definitely needs to be patched and mended.
Moreover, do clean the dirt from the roof as well which can be the cause of blocking the drainage channels.
Check your Insurance Policy
Do check for the home and content insurance. Does it cover you for floods, landslides, and damages caused to the property by falling trees? If you are not sure, consult your insurance provider to clear things up beforehand. If you are looking for the latest insurance trends, you can log on to loews.com.
Tune into Warnings
Lastly, you need to stay updated with the latest weather warnings.
1. Turn on your local radio or TV station for the weather updates
2. Set emergency alert messages on your mobile as well as on the landline number
3. Listen out to the warning sirens and announcements
4. Attentively listen to the services personnel who may knock at your door with some pieces of cautious advice.
Total Page Visits: 393 - Today Page Visits: 3