Dishwashers were once considered luxury appliances, but today it is one of the most sold kitchen appliances all over the world. There is no doubt that the dishwasher does make our work easier, saves water, and saves a lot of time. In the past few years, the dishwasher has evolved into more productive and practical appliances. Now it is loaded with more advanced technologies and more compact.
Moreover, the compact dishwasher is equally efficient and powerful like the regular size dishwasher. It is mainly designed to fit under the counter and provide more interior space for other larger appliances. It is also for people who have a small kitchen area.
However, buying a dishwasher that is right for you needs some research and inspection of your home. There are several types, features, and sizes of dishwashers available in the market. Some dishwashers also have customizable panels to blend in with your kitchen interior. So here is an informative buying guide for you to buy the right dishwasher for your home.
Buying Guide
As compact dishwashers are smaller than regular size dishwasher, you must see how the overall space of the dishwasher is utilized. It should have six to eight standard place settings to keep your utensils. You must also consider the size of the dishwasher, whether it will fit in your kitchen space or not.
You must know your budget before planning to buy a new dishwasher for your home, as sometimes it can be costly. Find a dishwasher that will give you the best feature at the best price. However, compact dishwashers are comparatively less expensive than standard dishwashers.
There are many types of dishwashers like a portable, built-in, drawer, etc. are available in the market.The type of dishwasher you will need mostly depends on the space or where exactly you want to install it. Moreover, the price of a compact dishwasher is also influenced by the type of product.
Buy a compact dishwasher that is energy efficient. You must see that your dishwasher has the energy star symbol in it. Nowadays, the newer dishwasher has become much more efficient and reduces energy consumption by up to 30% compared with the previous generation dishwasher.
Make sure that your compact dishwasher has all the washing cycles like a light wash, heavy wash, eco wash, etc. The eco wash generally helps you save energy. Other features rinse, quick wash, glass wash, pot scrub, sanitizes wash, etc. is very useful. You must also know what types of utensils you will put in your dishwasher. It will help you understand what features you will want your dishwasher to have.
Consider buying a stainless-steel dishwasher for the longevity of the product. Stainless steel resists stains, removes odors, and transfer heat more efficiently. There are also plastic tub dishwashers, which are more affordable.
Many dishwashers make a lot of noise when it is in use. A loud dishwasher can sometimes be annoying when you are working or having a conversation in the kitchen. Therefore, consider buying a quiet, compact dishwasher.
Products
Here is a list of best compact dishwashers you can buy for your home.
KitchenAid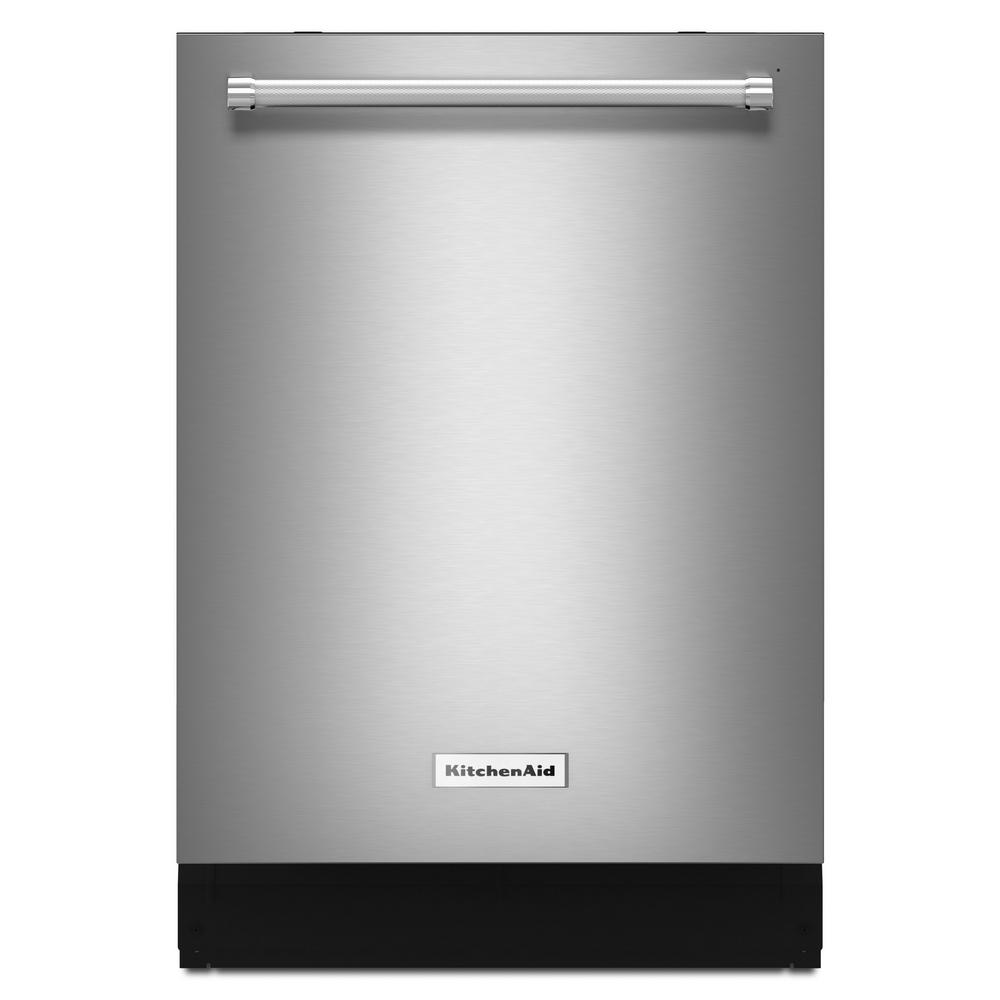 KitchenAid is known for building a strong yet silent dishwasher for your home. It is made from stainless steel to give you the longest efficient and toughest cleaning. The powerful fan gives it the best drying performance, and the third level rack adds 35% more space to make dishwashing easier. It is loaded with all the features that can wash any kind of utensils. You can easily buy this product from homedepot.com, an online appliance shop.
Pros
Fan-enabled Prodry system for superior dry without rinse.
It has a bottle washer with flexible nozzles.
Print shield coating to resists fingerprints and smudges.
Durable stainless steel.
Energy star qualified
Cons
A bit complex user setting.
Fagor high temp under counter dishwasher is a powerful and effective compact dishwasher with dual Effi-Rinse and Effi-Wash feature. This featureensures that the utensils that run through the machine come out clean and sparkling. The air brake system does a 180-degree full rinse cycle. Buy this product from build.com to get the best price.
Pros
Made of stainless steel for durability.
Best for tight or compact space.
Changeable power level to reduce energy consumption.
Cons
Because of the compact size, the ground clearance is zero.
Heavyweight
The Black+ Decker fully integrated dishwasher is a beautiful looking dishwasher with lots of great features. It has seven different wash programs, which will help you wash your dishes easily without doing any damage to your utensils. The water connections and drainage system of this product is simple and easy to use. Wayfair.com is offering the best discounts on this product.
Pros
LED display with electronic touch controls
Stainless steel for better efficiency.
Energy star qualified.
Fully integrated.
Cons
Less space for compact size.
Danby white compact dishwasher is designed to fit the small size of your kitchen. It is a compact and powerful dishwasher, and it also uses very less water to clean the dishes when used on a regular cycle. It has six different cleaning options that can be easily monitored.
Pros
Made with long-lasting stainless steel
Low water consumption
LED display
Energy-efficient.
Cons
Bosh 300 Series is one of the best compact dishwashers available in the market. It is a very powerful dishwasher, and the sound-reducing technology makes it remarkably quite. The air-dry system safely and effectively dries the dishes with not outside vents or fans. You can buy this product from homedepot.com and get exciting discounts and offers.
Pros
Natural cycle and option selection
Eco silence motor
Nine setting types
Energy star qualified
Flexible silverware basket
Made with stainless steel
Cons
Conclusion
These are the five best compact dishwashers available in the market. If you are considering buying a new dishwasher for your home, you can't go wrong with any of the products mentioned above. Feel free selecting any of these products from the given sites as they sell the best quality genuine products.
Total Page Visits: 279 - Today Page Visits: 1