Everyone wants an attractive and eye-catchy look for their living room. It is the place where people not only spend most of their time with themselves and with family but also welcome and invite their friends and loved ones. Besides, a living room plays a very vital part of the home. Hence, it must be functional yet welcoming and load itself with a warm and peaceful impression towards deep relaxation.
The creativity of one's thought can design the living room. The first impression comes from the look and the way you decorate and organize the living room. One must decorate the living room in an attractive way and also with elegance. How to decorate the living room? Well, while designing the living room, one must keep in mind that the furniture takes a vast space. Like the sofa sets, center table, a chest, must be placed correctly. Also, people can use vases, pictures to cover up the walls, or some important playing instruments, or some greenery or natural beautyto add a bit of nature to the living space.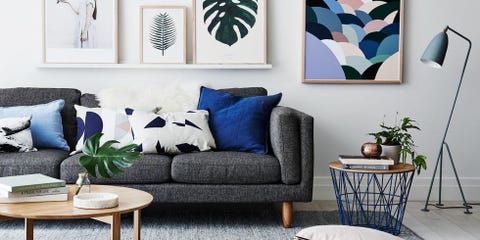 Here we are considering some vital options that combine comfort with stylish design.
1. Adjusting living room seating
If once you have determined how much space you have to work with, it can be easy for you to arrange the seating area. Adjusting the sofa in the living room can be a good idea. According to space, one can divide a large living room/dining space into two separate zones with furniture placement. The first step should be how to function the living room, and it should be the primary influencein your design. Sitting arrangements should be the main point. Hence, the placement should be in the correct direction. Adding a sofa in the right direction must be made along with the center table. In the living room, comfortable seating is essential. It can easily be the center of attractions.
One must face the sofa towards everyone in the room to have a clear view. A rotating armchair can quickly adapt to space for entertaining and will look good and attractive. It can be more joyful if kids are there. A large living room can be split into two or more areas, making a space for kids to play as well. One can consider a part of the living room and design it as a play area for kids. So, kids can also enjoy their space with their elders.
2. Try out occasional tables
An occasional table is a must in the living room. This designer tables in the living room such as coffee tables, accent tables, sofa console tables and side tables can enhance the living room decor. One can place the coffee table in the front or center of your seating arrangements whereas these tables can serve ample accessories, books and necessities like magazines, ac remotes, tv remotes and books. These are useful and will look good for arranging small things in order. Keeping it neat and clean with an occasional table can give a perfect decorative look for living area.
3. Hanging decorative mirrors
Hanging a large decorative mirror can give a good view. These aren't just designer ones to add a decorative touch to an interior. It provides the perfect solution for covering the open and wide space in the living room. It will make the living room feel brighter and larger. The designer mirrors look stylish to showcase the beauty of the living area. The beauty of mirrors brings a sense of balance to a neutral living room design. Therefore, a large mirror can add a bit of interest in the living area; it will keep the balance and will look decorative.
4. Adding a bit of natural beauty in the living room
Small indoor plants make each, and every space looks bright, lively, decorative, and gorgeous. Planting in the living room can give a more attractive look. It has to be a neat way to decorate with plants because they are especially useful in corners and beside and also behind chairs and sofa. Besides, one can mix it up with flowers vase. Plants are air purifying, vibrant, inexpensive and can look fantastic in living rooms.
Just have to style them in a perfect place of living area, a window seat is an ideal placement for grouping greenery. Add a mismatched pot for a punch. A few well-chosen plants like country cottage will meld beautifully, and naturally with all the wood tones.
5. Change the living room color
Vibrant and classy colors can pop out the eyes of everyone. Automatically the person will feel good by entering the living area if the color is soothing. Adding a designing color on the walls can be super fab, nothing more is to be needed if the colors speak. Colors can be fresh and subtle at the same time; green is one of the best paints for a living room. This color can be perfect alternative for those who find neutrals are too boring. Well, choosing a decorative and attractive shade can go well for the living rooms. So, you can select the right color to give a perfect look to your living room, which will enhance the outlook of it. It will look attractive and designer at the same time.
Therefore, you can use the above ideas for your living room décor to give an elegant touch and a new look to it.
Total Page Visits: 391 - Today Page Visits: 3