Some tools are purpose-built for DIYers and their home renovation plus DIY home décor plans. Two such tools include oscillating and rotary tools that help you in small DIY projects as well as big home projects. These tools can help you in saving a lot of money as opposed to hiring professional help for these small jobs. However, if it is inevitable, then you must go through the top 10 professionals to help homeowners need. Therefore, if you need to chose either or both of the tools, you must know the options that you have. We have listed four of each type of tool for you to gain benefit from in the form of price and quality.
Let us first go through the top 4 types of oscillating tools:-
1. Fein Multi-master
The FEIN Multi-Talent is the first choice for anyone looking for an economical professional tool but is unwilling to make any compromises in quality or performance. This universal tool system for interior construction and renovation provides almost total access to the Starlock and StarlockPlus accessory range and, with its wide selection of original accessories, sets standards for all oscillating tools on the market. You can get this great tool from homedepot.com.
Features:-
The NEW StarLock Mounting system allows for a "snap-in" tool-free accessory change; a 3-second blade change!
Features a powerful 250-watt motor
Made in Germany
Widest range of accessories available
Perfect for renovation for door jambs, toe kicks and hardwood flooring to name a few
2. Dremel MM45-05
Dremel MM50-01 Multi-Max Oscillating DIY Tool Kit
The Dremel Multi-Max mm50 oscillating tool is equipped with a powerful 5. 0 amp motor, The highest amp rated tool at the $129 price point. It is also built with a robust metal head that lowers vibration for cleaner precise results with less fatigue, as well as increasing tool durability. The innovative design with the
compact head and angled body make it easier to get into tight hard-to-reach spaces and gives you much better control, especially when flush or plunge cutting. Twist and push the knob for quick, simple and tool-less blade change. Includes 30 accessories and a carry on bag for you to get started right away. It's the smoothest, smallest, Smartest and strongest in its class. Experience the evolution of innovation with The new Dremel mm50! You can get this great tool from
homedepot.com
.
Features:-
The Dremel MM50 has a robust design that provides low vibration
With a compact head that is 30% smaller than other tools in its Class
Exclusive And unique angled body design delivers a much-improved experience
Powerful 5. 0 amp motor, highest in its Class, delivers Pro performance to get the toughest jobs done
Tool-less blade change system allows you to change easily
Variable speed – from 10, 000-21, 000 OPM for optimal performance and control when working with various
The kit includes one storage bag and a varied range of 30 accessories
3. Electric Oscillating Tool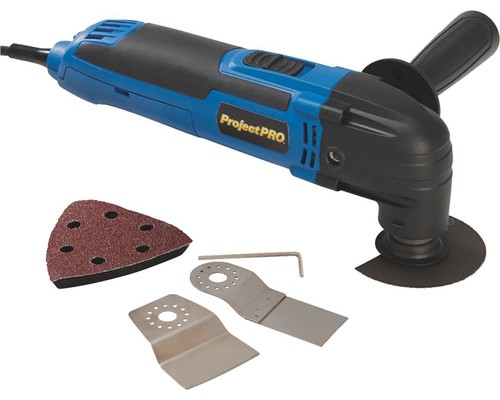 Hipp Hardware Plus Electric Oscillating Tool, WMW300-2
A multipurpose, versatile tool for sawing, scraping, rasping, cutting, grinding, and polishing. Works on wood, plaster, paint, metal, and stone. Features include no recoil when sanding in corners and along edges, high cutting performance right into the corner, minimum operating noise, clean and straight cuts, can be plunged at any point into the workpiece, cutting depth automatically determined, low dust formation, and no sparks when sawing sheet metal. 1.8A, 21,000 OPM. Kit includes: Hex key, triangular sanding pad, 2 sanding sheets, end cut blade, scraper blade, semicircle saw blade. Compatible with Rockwell and Imperial Blade oscillating accessories. You can get this great tool from houzz.com.
Features:-
Amperage: 1.8A
Voltage: 120V
Oscillations per Minute: 21,000 OPM
Oscillating Angle: 3 Degree
Weight: 3 Lb.
Dimensions: 12 In. W x 14 In. H x 15-1/2 In. L
Cord Length: 7 Ft.
Case Included: No
Warranty: 1 Year
4. DEWALT Oscillating Tool Kit
DEWALT Oscillating Tool Kit, Corded, 3-Amp, 29 Pieces
Powerful 3.0 Amp Motor provides strong performance for cutting and sanding QUICK-CHANGE™ Accessory System allows blades and attachments to be changed quickly without wrenches DUAL-GRIP Variable Speed Trigger gives users ultimate speed and application control Bright LED Light illuminates dark work surfaces for accurate cutting DEWALT Oscillating Tool Guide System allows users to set the depth or height for accurate repeatability. You can get this great tool from homedepot.com.
Features:-
Powerful 3 Amp Motor
Oscillations/min: 0-22,000 OPM
Quick-Change Accessory System
Dual-Grip Variable Speed Trigger
Bright Led Light
29-Pc Dewalt Accessory Kit
Battery voltage: Nominal voltage is 18
Now, let us look at the top 4 types of Rotary tool
1. Cordless Rotary Tool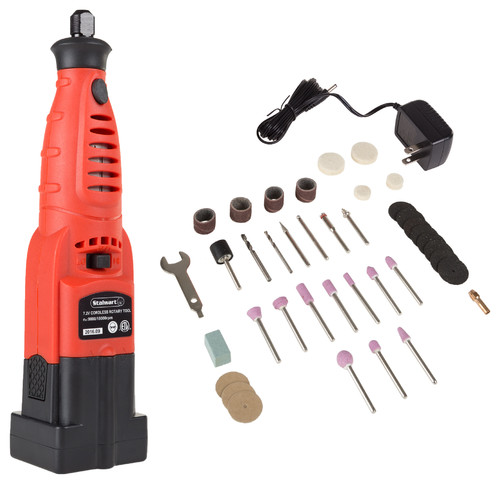 40 Piece Cordless Rotary Tool and Accessory Kit by Stalwart
Take on any home improvement or hobby project with the 40 Piece Cordless Rotary Tool and Accessory Kit by Stalwart. Hobbyists and do-it-yourselfers alike will love the wide variety of attachments provided in this set; they'll also love that each piece is universally designed to fit in any standard handheld rotary tool. This kit has everything from cutting wheels, engraving bits, deburring tips in three different grits and mandrels for sanding sleeves. It also comes with a 7.2V cordless handheld rotary tool with the wall charger. You'll never be left without the proper tool for a job ever again. You can get this great tool from houzz.com.
Features:-
Convenient storage
Tool for every job
Cordless
Universal fittings
40 piece set
2. 3.6V cordless rotary toolset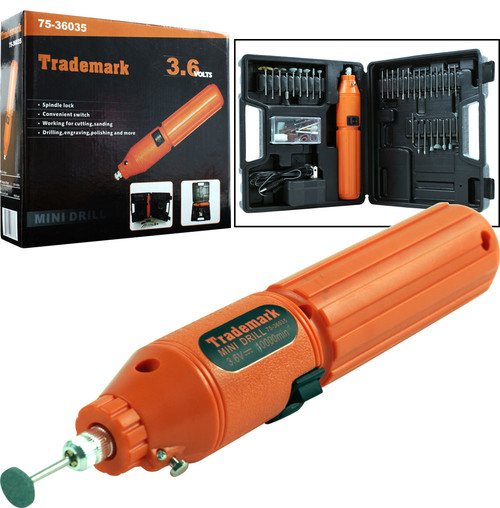 60 piece 3.6V Cordless Rotary Tool Set by Stalwart
The compact size of this amazing Stalwart 3.6V Cordless Rotary Tool allows comfortable use and control even in tight spaces. Quick change collets firmly secure accessories. It cuts, grinds, sands, drills, sharpens and polishes with 60 different accessories. You can get this great tool from houzz.com.
Features:-
No Load Speed: 10,000 rpm
60 pc. Accessory kit with sanding, polishing, engraving, drill bits
Spindle lock button
AC charging adapter
Cordless operation after charging
Carrying case dimensions: 2.25 x 8.75 x 8 inches
Rotary tool dimensions: 8 x 1.625 x 1.5 inches
Includes retail packaging
3. Heavy-Duty Rotary Tool Kit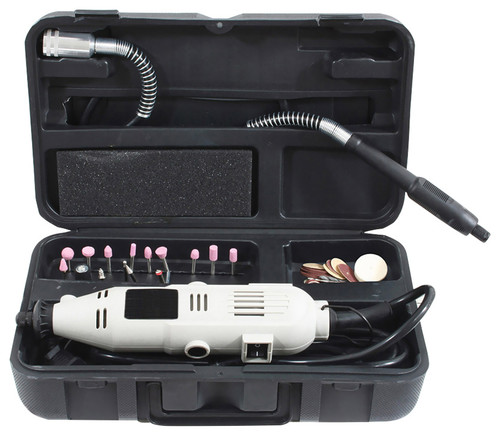 Offex 42 Piece Power Rotary Tool Kit for Edging, Joining and Veining, Shaping
Offex 42 Piece Power Rotary Tool Kit for Edging, Joining and Veining, Shaping, Grinding and Polishing, The Offex 42 Piece Rotary Tool Kit includes 40 popular and specialty accessories for decorative edging, joining and veining, shaping, grinding and polishing. The compact and lightweight design of this Rotary Tool Kit is great for the hobbyist or professional woodworkers to use during home restoration, cabinet making, and woodworking projects. Variable speeds of 8,000 to 30,000 RPM give it the low speed needed to work on soft and delicate material and the power to handle harder pieces. Packaged inside a storage case to protect the bits from dings inside the toolbox and easy organization. You can get this great tool from houzz.com.
Features:-
For projects around the shop and home. Use for decorative edging, joining and veining. For home restoration, cabinet making and woodworking projects, compact lightweight design.
Includes, one rotary tool, one 42 in.flexible shaft, and 40 popular accessories. Variable speeds of 8,000 to 30,000 RPM.
Durable, double-insulated, impact-resistant housing. Accepts accessories with up to a 1/8 in.shank.
Material: Plastic. Color: Black, Silver.
4. Pen Sander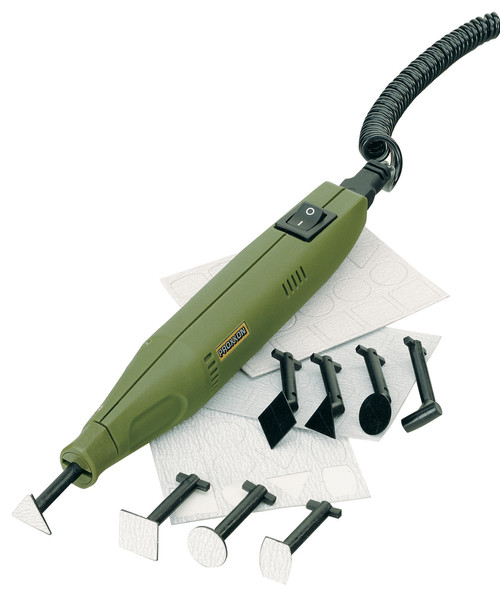 Proxxon 28594 12 Volt Pen Sander
Pen sander is a high-speed portable tool that can be used for precise and detailed engraving. It is ideal for engraving in glass, metal, wood, and plastic. The pack comes with one 5/64" spherical shaped diamond head bit. It runs on 12 volts and is a must-have for DIYers of all caters. It can easily be purchased online from houzz.com.
Features:-
Portable
Durable
Superfine sanding, shaping or sawing
Ideal for surfaces, slots and tight corners
Includes 4 sanding attachments with straight shanks and 4 with angled shanks
Whichever tool you chose, you should always compliment safety with it. It does not matter if you are a professional at handling rotary and oscillating tools as both of them run at high speeds and can be very dangerous in certain scenarios. Therefore, the use of personal protection equipment is a must every time you hit the wood, plastic or metal with either of the two high-speed tools. In case you are an amateur, you must go through basic videos on how to use these tools and the definite safety measures you must take before hitting the "on" switch.