Overview
Most people start their business from home as getting a traditional office affects the budget quite badly. However, it is also not too simple to have a home office. You have distraction factors at your home such as kids, chores, and TV, etc. Additionally, there is no one in the home office to supervise you and your progress. You have to keep track of everything on your own and proceed in self-motivation manners. So, keeping the proper focus on your business or work at home might not be simple. To make your job easier, I am going to share a few of the best ways, tricks, steps, and tips to set up your home office at a budget-friendly price. To get cost-effective equipment for your home office, you can visit Amazon, Houzz, or Build online stores.
The importance of working from home has increased drastically with the technological advancements and physical workspaces have lost their importance to some extent. It can be wonderful if you work from home as you don't have to reach the office on time and you also feel relaxed as you don't have to wear the proper formal suits working from a home office. However, you must follow the best steps and tips given below to be successful in setting up a home office on a budget.
Best Tips for Setting up a Home Office on a Budget
Make a Proper List of Your Priorities
This is the first step of your journey towards setting up a home office on a budget. Making a proper list is very important before starting this procedure. What do you need? How much money and resources are you willing to spend on this project? Set your preferences or priorities and proceed to the next step only after doing this.
J

erry & Maggie - Desktop Organizer Office Storage Rack
It is our recommended option for those looking to make their home office awesome within their budget. You can easily buy this item by visiting Amazon.
Create a list of everything you will need from your home office and prioritize those items in order of their importance. Try to list only the important items that you will need to operate your home office and be practical with it. Try to keep a list of items that you will use on at least a weekly basis. When you save money in such ways, you will certainly have the cash available to buy important items. This approach will reduce the cost of building your home office and make it more manageable.
Save Money By Using What You Already Have
Try to find out things you will need in a home office and those might already be in your house. If you do, you might find a few things that can be repurposed for your home office on a budget. You can also get the old furniture from your family and friends as they might be looking to get the new items and you can cash that opportunity to save money. So, it is very important to save money by using already available resources. There is nothing bad about keeping old furniture in a home office to save money as your goal is to perform an office job from your home instead of showing your attractive furniture to people. However, if you still want to get new furniture, we have the solution for you.
Modern Designer Executive Ergonomic Office Chair
This is one of our recommended furniture that is not only cost-effective but also of high quality. It can easily be bought by visiting the online store Houzz.
Keep Things Simple
You can save a great amount of money by keeping your home office simple and clean. No need to go for luxurious or fancy equipment. You can always go for big brands and get their equipment but it will cost you a lot. Your goal is to save money and set up a Home Office on a budget, which is why you just need to do the basics right. You don't need to follow what you see on social media or TV. Just go for the simple, in-house brands that also provide high-quality equipment that also lasts long.
Sauder Woodworking

Corner Desk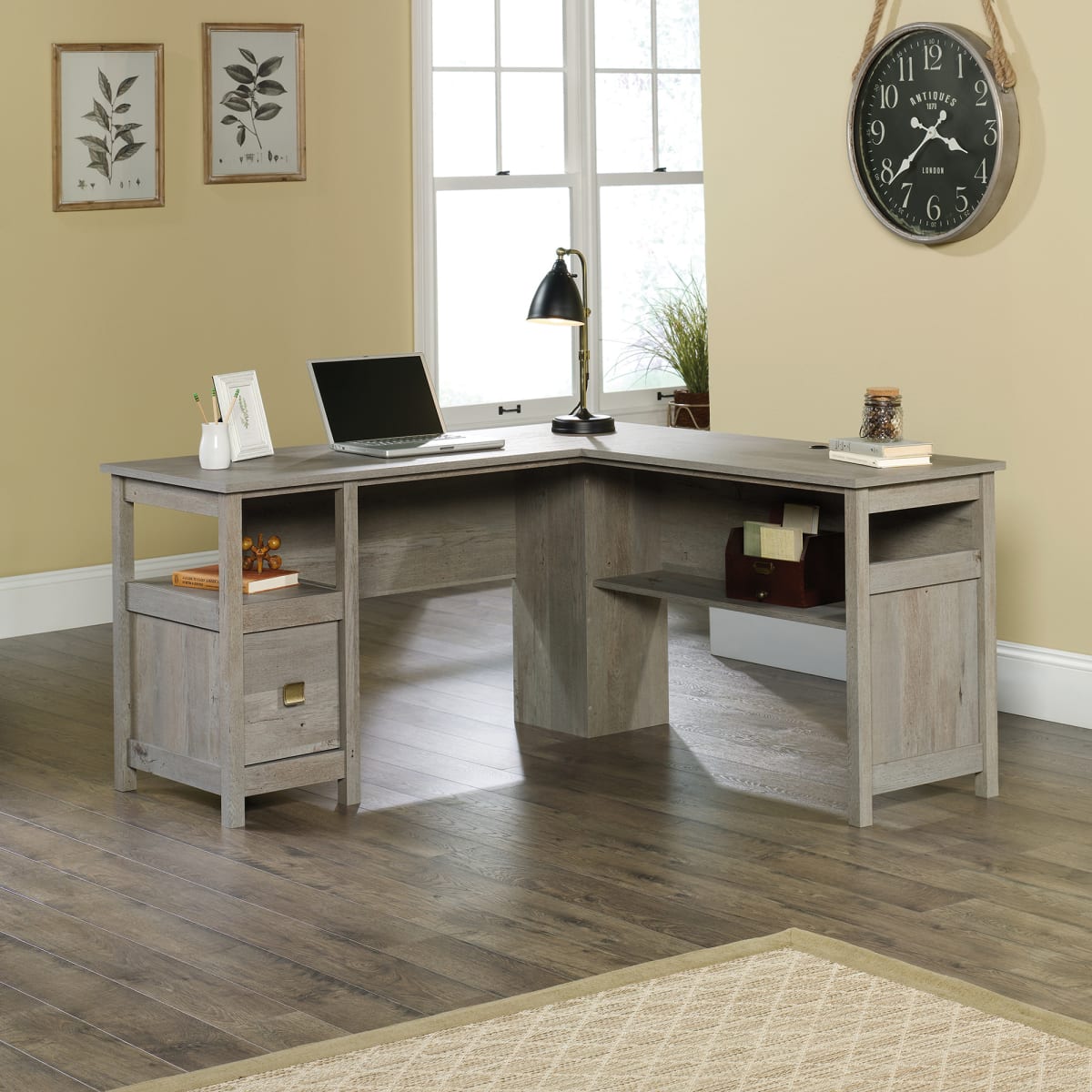 This is a great option for you which is available on Build.com.
Go For Discounts, Bargains, and Deals
Companies always try to attract people with amazing discounts and money-saving deals. It makes your job of setting up a home office on a budget easier. You should always consider discounts and deals prior to making any buying decision. Visit garage sales, check discount websites, try to find out if the companies are having a closeout sale.
Boss Office Products Ivy League Executive Guest Chair
If you are not willing to buy and use old furniture, our recommended option to save money with amazing discounts is that you visit Amazon online and get amazing discounted items like this one, which is coming with a 54% discount on Amazon.
Combine Essential Items Together
Think of how you can combine items instead of buying everything separately. If you buy everything separately, it will definitely cost you a lot and you will not be able to set up a home office on a budget. So, combining the essential items and buying something all-in-one is always a great way to save your money. For example, you can buy an all in one printer that may consist of a printer, scanner, and copier.
Wireless All-in-One Printer, Scanner, Copier, and Fax
This is an amazing all-in-one solution for you. This product is one of our recommended options for you as it is with Mobile and Duplex Printing. It is available on Amazon. It will also save a lot of your space as well as money.
Buy Frequently Used Items in Bulk
Another great way to save money setting up a home office is to buy several items like pens, paper, pencils, files, staple pins, storage boxes, folders, markers, etc. in bulk. It is a fact that you will need these things every day of the year in your home office. So, it is always good to buy these in bulk to enjoy amazing discounts on bulk purchases rather than purchasing a few pieces every week.
Customized Office Hardcover Folder
You can find good on-site or online shops to get a huge discount on bulk orders. Our recommended product and is available on Alibaba where you can easily find and buy it at any time.
Don't Borrow Money
Don't set up a Home Office by borrowing money. This is never a good way to get started. Make use of the items you already have till the time you have enough money to purchase or arrange equipment. You are good to go for the time being if you only have a chair, printer, and a desk. If you don't even have such equipment, you can get a low-price but still good quality printer online.
Mobile Printer Stand
This is a low-price printer stand for you, which is available online on Wayfair. So, don't borrow money, wait for a while, and arrange some money to buy simple and required pieces of equipment.
Cut Down Your Cost By Avoiding Landlines
Having a landline has its benefits. However, it can be costly as well as unnecessary to have a landline in addition to your cell phone. No need to have a landline as you can always use a cell phone for all correspondence. You can set up a home office on a budget by buying a printer with scanning capabilities instead of having a fax machine and its overhead.
Become a D.I.Y. Expert By Visiting Housener.com
You can save a lot of your money by becoming a Do-It-Yourself expert. You will not need to hire any painter, furniture assembler, or electrician as you will have the knowledge and skills to do everything yourself. It will not only be a fun way to learn new skills but also will save a lot of your money on these otherwise costly services. You should keep visiting and exploring the Housener website. It is one of the best ways to get the knowledge of home improvement services at affordable costs. You get a variety of topics and ways to save money doing many home improvement projects yourself.
Swap Items With Friends And Neighbors
This is another good way to save money by setting up a home office on a budget. It is with everyone that you might have some unnecessary equipment at your home. However, that piece of equipment or furniture is not suitable to be used in a home office. What to do now to use it in your favor and save money? Here is the solution!
AmazonBasics 5 Tier Metal Office Document Organizer Tray
This is an amazing option if you are looking for a new office rack or stand and want to set up your home office on a budget. This amazing product is available on Amazon where you can easily buy it.
A very good option is to swap that equipment with family or friends. For example, you have a dining table that doesn't fit in your home and you don't need it for your home office as well. However, it might be good and beneficial furniture for some other members of your family or friends. So, it is good to consider trading pieces of furniture with a friend. You can trade that dining table for a desk that you need in a home office. Additionally, you might have children's furniture but not children anymore. So, it is a great idea to exchange children's furniture with a neighbor having children in exchange for bookshelves that you need in a home office. With this type of swapping, you can save a lot of your money setting up a home office on a budget.
Final Words
The area of your home office should be neat, clean, and peaceful. However, it is not easy to avoid expenses while achieving this goal of making a good home office environment. Make a proper list of important items, utilize what you already have, avoid buying luxury equipment, cash the discount offers, and don't borrow money to set up a home office on a budget. Swapping unnecessary furniture with neighbors and friends, cutting down the landline overhead, and buying the frequently used items in bulk are also some of the other great ways to save your money in setting up a home office in a cost-effective manner. This article has everything anyone needs to set up a Home Office on a budget.