Watching an interesting movie at home is one of the best ways of getting amusements. Lots of movie lovers have installed home theater systems to take their entertainment to a different level. However, how would you ensure comfort to your friends and guests when they come to your house for enjoying movies? Invest in the best home theater seating to get an amazing feel. Although you may have a sofa and other furnishings, the specially designed seats make everything look like a real theater.
Let us have a look at the reliable home theater seating designs.
1. Leather Home Theater Loveseat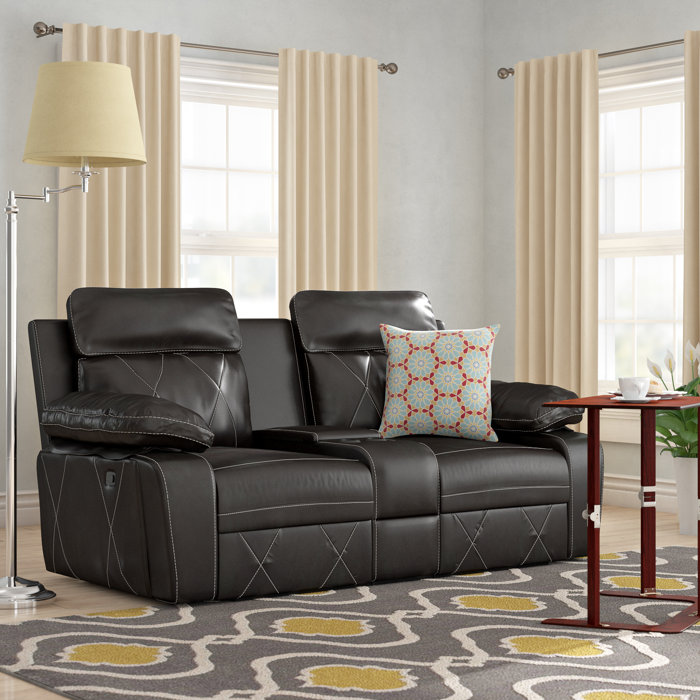 The contemporary style theater seating is made of polyurethane and leather to ensure softness. This reclining furniture gives you the ultimate comfort. The manufacturer has stitched the fabric in a way that creates an elegant look. The chairs have a capacity of carrying 500 lb. The spacious cup holder enables you to store your magazines and remotes. To recline the system, the wall clearance has to be 6 Inches. After adjusting the tilt system, you can lock it.
You can buy this home theater seating from Wayfair.com.
Pros
Includes lumbar support
Upholstered Arms for comfort
Minimalistic look
Cons-
No electric reclining system
2. Home Theatre Seating - Andes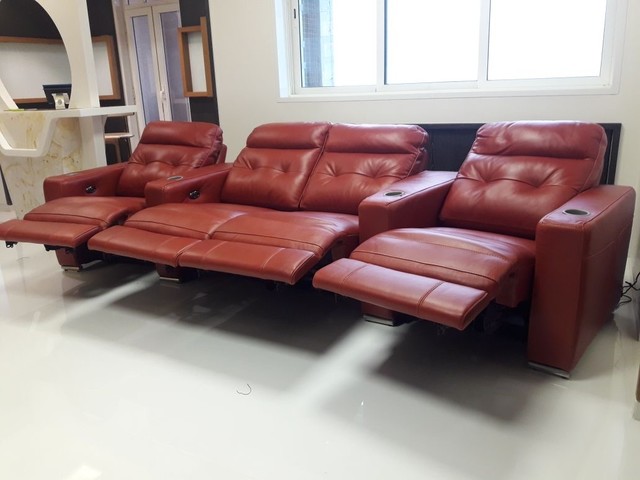 The brown colored reclining chairs match the décor of your room. With a row of three, this seating arrangement gives you much space to sit comfortably. The manufacturer has used high quality reclining system for the recliner. While watching TV, you can rock your chair back and forth easily. Moreover, you may put up your feet due to the special design of the chair. The armrests include cup holders, where you can store small staffs.
Find this product at Houzz.in and place your order for customizing the size.
Pros-
Leather chairs
Accommodates 4 persons
Easy to assemble
Cons-
No issue, faced by the users
3. Home cinema seating
For a family of four members, this is the best product. The bright red leather design has added a level of attractiveness to the home theater seating. The tufted design on the backrest has created a special pattern to increase the aesthetics of your room. As other home theater seats, this model also has cup holders and armrest. The plush chairs are easy to maintain, and you will get a lasting value. You can enjoy movie while sitting on the perfectly designed chairs.
Buy this home theater seating from Houzz.in.
Pros-
Attractive look
Durable leather
Ensures comfort for your feet, arms and backside
Cons-
4. Waterfall Blue LED Home Theater Curved Row Seating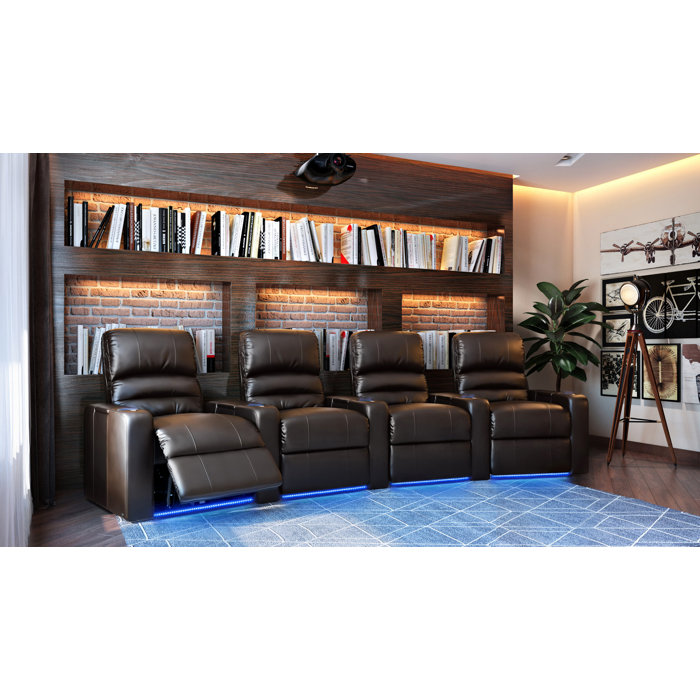 Waterfall Blue LED Home Theater Curved Row Seating
Made of genuine leather, the black home theater seats come with manual reclining system. You can find a slightly curved arrangement of these chairs. The manufacturer has integrated technologies into this seating system to make the product different from other models. The blue LED lights illuminate the base rail and cup holder. However, you may touch a button for turning on and off light. The in-arm storage is also spacious to hold your remote controller. We have found an ergonomic design, as the chairs can ensure comfort to your upper neck and back side. The weight capacity of the chairs is 350 lb.
Get this product from the store, Wayfair.com.
Pros
Waterfall styled seats
Quality leather
Lots of add-ons
Two storage compartments with every chair
Cons
5. Recliner Chair Home Theater Seating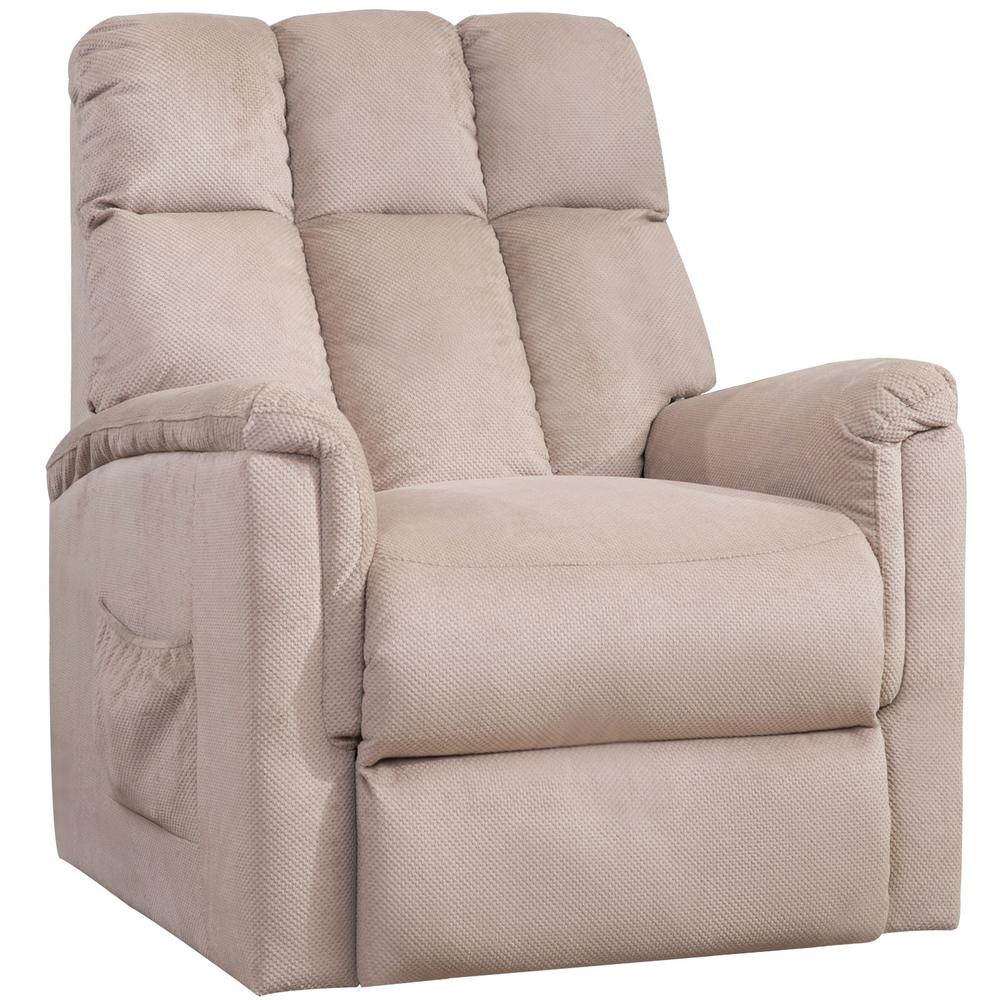 Recliner Chair Home Theater Seating
We have chosen another reliable recliner chair that you can place in your theater rooms, media rooms, bedrooms and living rooms. It is a power lift chair, enabling you to adjust the seat height and recline the backrest. The stain-resistant beige fabric retains its original look in spite of your regular use. The manufacturer has used polyester fiber and high-density foam for the cushions. The seat width of the chairs is 19.7 inches and it accommodates any adult person
To get this home theater seating, you have to visit, HomeDepot.com.
Pros
Padded armrests
Easy-to-use lifting modes
No backache
Cons
Must have different reclining positions.
6. PU leather Recliner Chair Home Theater Seating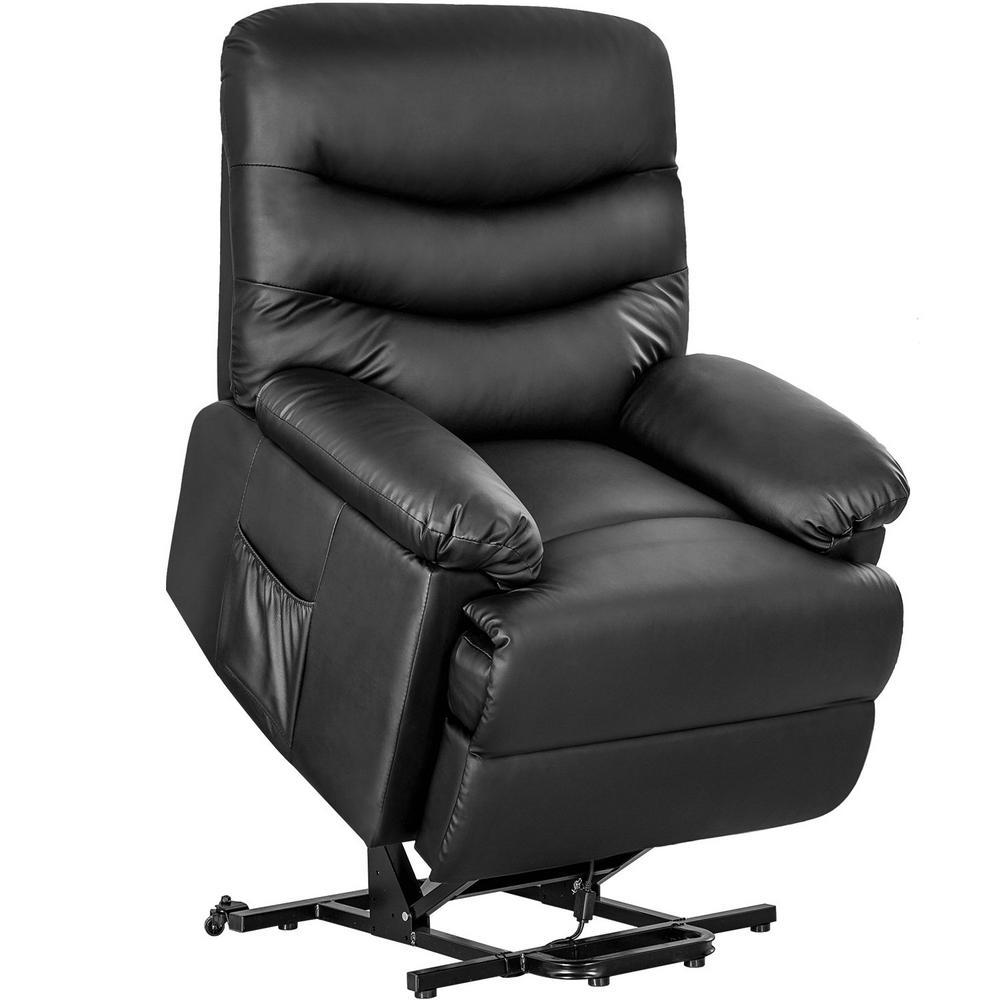 PU leather Recliner Chair Home Theater Seating
Although it is a home theater seating, you may buy it for elderly users. The use of steel has made the reclining system highly durable. The weight bearing capacity of the chair is 330 lbs. The PU leather, used for the recliner chair, has added a level of sophistication and resilience. You need to push a button for reclining the chair. The reclining feature and built-in footrests enable you to stretch the seats fully. Visit HomeDepot.com now.
Pros
Side pocket for storage
Sturdy design
Cushioned chair for comfort
Cons
7. VIT Gaming Recliner Chair
Available in grey color, this home theater chair is made of PU leather. The skin-friendly leather is also very easy to clean and gives you comfort. The high-density thicker sponge has created a cozy design for the chair. For the frame part of the chair, the manufacturer has used hardwood and stainless steel. Due to the presence of foot cover, the chairs do not cause any stain on your floor surface. The weight capacity of the chair is 300lbs. The footrest and backrest is adjustable from 90 to 180 degrees.
This reliable product is available from the site, Amazon.com.
Pro
Multi-Function Use
Quality materials
Ergonomic design
Cons
8. Furniwell Recliner Chair Massage Home Theater Seating
Furniwell Recliner Chair Massage Home Theater Seating
As one of the high-quality home theater seating models, it is made of premium leather. The backrest is slightly curved to ensure comfort to your body. Whether you are lying or sitting, the chair never interferes with haemal circulation. Due to thick foam padding, you will get comfort. With weight capacity 265 lbs, the recliner can move from 90 from 170 degree. The seat height of the chair is -Seat Height: 17.7".
You can buy this product from Amazon.com.
Pros
Curved armrests
Adjustable modes
Easy to assemble
Cons
Limited massaging feature
Now, you can make your choice from these home theater seating systems. We have picked the best products from different stores. You may check out their features to buy one.