Upholstery is known as fabric, which includes padding, fabric, webbing and springs – the materials that cover the furniture. It makes up the soft coverings of sofas, chairs, and other furniture. Well, the process began popular during the 19th centuries. Several kinds of materials are used, such as horsehair to hay to wool for upholstery. Also, many types of upholstery fabric are used like plant fibres, animal fibres, animal hide, synthetic fibre etc.
Here we are sharing some tips and tricks for maintaining and cleaning upholstered furniture.
Do proper research
Do check or examine the tag on the upholstery. This may consume some time, but this requires a bit of searching, and most importantly, each piece of upholstery should contain a tag with a specific cleaning code. It can be found beneath one of the cushions as it can be made of several different material blends and hence, these have proper cleaning or maintaining requirements. It mainly depends on fabric or material to see whether it need to spot clean or deep clean.
Water: apply water-based solutions to clean such as soap and water for fabrics that are made from materials like nylon, polyester, acetate and olefin.
Solvent: try to clean with a solvent-based solution that is water-free, which is known as a dry-cleaning solution. Most of the upholstery with this code is made from natural fibres like denim and cotton, linen, silk, rayon, wool, and damask.
Another option is cleaning with vacuuming and light brushing to remove dirt and soil.
Remove the cushions: cushions should have removable or washable covers. Well, if the covers are removable, then wash it according to thetype of material.
Remove large debris: people can use a spatula or spoon, to pick up any food or other dirt which are bigger in size.
Choosing the right fabric and its protection
Fabric is one of the best ways to improve the durability of your upholstered furniture. You must choose the right fabric while going for any upholstered furniture. You can select synthetic-based fabrics if you have kids or pets at home. As it is easy to clean and maintain. You must avoid woven items in such a case.
Right fabrics can help you because it helps to decrease the effect of stains. Besides, it doesn't allow them to absorb below the surface. Also, you must protect it by cleaning all the spills immediately before it gets absorbed.
Rotate cushions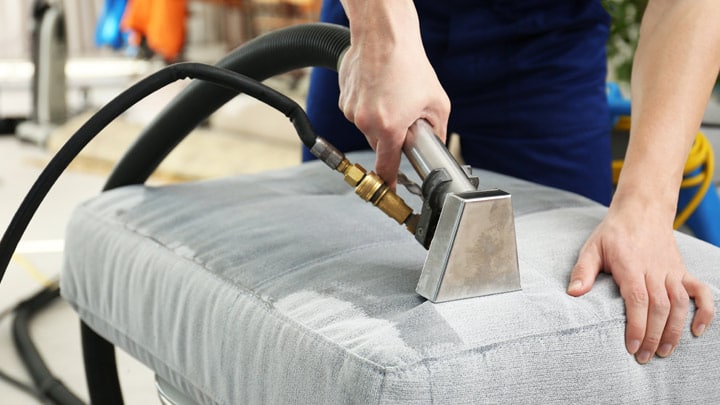 Sofa and chairs are used very frequently. If the seat cushions became a bit sloppy, then try to open a seam along the back of the cushion. You can also add padding. It can be kept clean and maintained by rotating and flipping the cushions from time to time. This is the easiest way to keep the cushions from sagging and help them to keep their proper shape.
Clean regularly
Upholstered furniture needs cleaning regularly for its proper maintenance. Well, to keep them looking new and fresh, maintenance is much needed. Keeping things clean and organised can give a fresh look. It can enhance the overall look of the interiors, offer better indoor air quality, eliminate allergens and offer longevity.
One of the best cleaning processes for the sofa is the steam cleaning with high heat to ensure the fabric dries quickly. It helps to remove the dirty stains and soils out of the material. When steam cleaning is opted for upholstery, a fibre rinse is also used because it helps to retain the neutral state without attracting further dirt from hands or any bodily oils.
Cleanup spills
If stains are left on the sofa and cushions for a long time, then it can become harder to remove such stains. Hence, as soon as you see the spot, you must clean them immediately. You can use a white base towel or cloth or paper tissues to blot the spill up as much as you can. You should not rub or scrub the stains as this will only make things worse, and immediately it will leave a permanent stain. You must avoid using coloured towel or sponges, bleach, oily substances or powerful detergents or liquid to clean it.
Professional cleaning
You can also opt for professional cleaning if it is recommended on an annual basis or beforehand. Besides, you should apply this idea when the weather starts getting warmer and must contact a certified and prestigious cleaning professional. Also, you can hire upholstery cleaning experts to do the job efficiently.
Treat furniture right
Are you wondering how to keep furniture safe? Sometimes, it is hard to keep out from the kids and the pets. You can see that kids and pets jump on the couch or climb over the furniture and also starts eating and drinking on the couch. However, you must be bit careful and prohibit kids and the pets to use the couches for jumping and climbing. Also, you must avoid keeping a few things near the couch, such as chemicals, ink, body oils, or fluids; otherwise, kids can drop anything at any moment on the upholstered furniture. You can organise things in a better way to keep it safe and avoid such situation to take place.
Odour control
If you have pets, then your upholstered furniture might have odours. Hence, you can use bicarbonate soda and sprinkle it and keep it overnight. Then the next day, you can vacuum the furniture and sofa sets. It will keep your sofa feel fresh and odour free.
Total Page Visits: 245 - Today Page Visits: 3