Outline
Mostly the problem that arises due to the small bathroom is that it doesn't have enough space to store all necessary things. But in this case, many space-saving ideas can help you. You can visit Amazon, Houzz, Build, Alibaba online stores to getthe space-saving equipment. If you are interested in the bathroom designs, another article for you is Top 6 Bathroom Design Trends.
Small Bathroom Solutions
Not being able to store the necessary items in your small bathroom is the biggest problem that mostly arises. To solve this problem you should go for solutions that help you in saving space. The following tips can help you to add storage to your small bathrooms.
Space Saving Ideas
It's not possible to fit everything in a small room. You should go for the design choices that are for the limited square footage. These ideas can help you in saving space in your bathroom.
Install a Corner Sink
You should replace the traditional vanity with the sink that gets adjusted in the corner because it doesn't take more space and helps in giving more walking space. Porcelain White Corner Sink on Houzz is our recommended option.
Swap out Your Bathtub for a Shower
To get more free space in your bathroom you should remove a full bathtub. Instead of the bathtub, you should get a corner shower that will take less space. You should make this shower an apparent part of your room. If you are interested in the bathtub, Kohler Freestanding Bath on Houzz is one of the available options.
Extending the Counter over the Toilet
You can add space by extending the sink and vanity to the back of the toilet if they are next to your toilet. But you should make sure that there is enough space to lift away the lid of the toilet tank at the time of need. KINGBERWI 2-Tier Corner Storage Shelf on Amazon is an amazing option if you are looking to save space in the bathroom.
Install Shelvesbetween Studs
The recessed shelves, which are also called the wall niche, can be installed to use the space instead of installing cabinetry because that takes more space. To install the shelves you'll cut a cavity into the drywall then for fitting the space you have to build a shelving unit. After doing this all you can repair the wall. Invisible Bathroom Shelf Wall Mounted on Amazon is an amazing option to save your bathroom space.
Sliding Doors
Instead of having a swinging shower door you should get sliding doors or shower curtains because that takes less space. To save more space you can also choose a curved shower.
Pocket Door
You should replace the traditional door of your bathroom with a pocket door. This will help in saving space.
Additional Storage Ideas
There are many ways by which you can add storage to a small bathroom without wasting unnecessary space. The following ways will help you with this:
Vanity and Storage
You should choose a vanity with drawers or a cupboard instead of a floating or pedestal sink because it will help in adding storage to your bathroom. You can choose open shelving under the sink instead of vanity if its swinging doors are taking too much space.
Mirror for a Medical Cabinet
A mirror can be used as a cabinet if it has a swinging door with shelves behind it. To store the lotion, medicine, soap and other items that are of regular use to this cabinet can be helpful. This can be a great small bathroom solution because it doesn't occupy any space on the floor.
Install a Shelf over the Door
You can use the additional unused space to hang the towels for guests. The space high on your wall can also be used for decorations and other items that aren't of regular use.
Hang Towel Racks on the Back of the Door
Hanging towel racks or hooks on the back door can be a great place. You should not place them on the wall because it will occupy valuable space. You should hang more than one towel rack vertically to get more space. Soma Bathroom Kitchen Towel Bar Hanger on Amazon is an available option.
Use Space over the Toilet
A shelving unit that can fit over the toilet can be a good purchase to add small bathroom storage. Floating shelves or additional cabinetry can be another way to use the space over the toilet.
Space for Towels
It can be difficult to choose the place where towels can be stored in a small bathroom. If the addition of new storage is in your plans then towels can be stored by:
Adding hooks
By hanging new shelving units
By adding towel racks
Using over-door shelves
Use cabinets or shelves above the toilet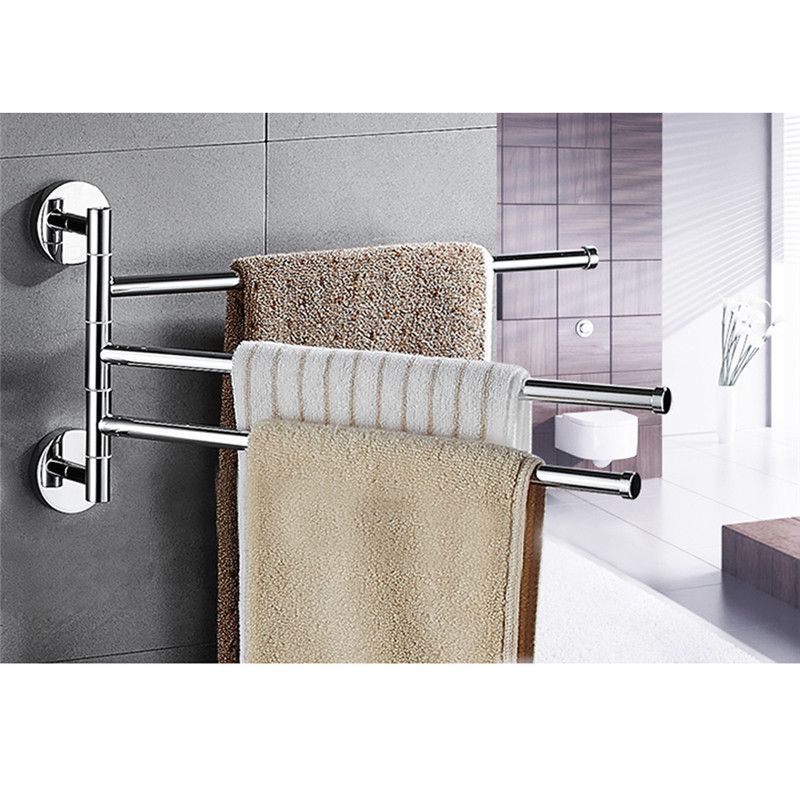 More Ways to Maximize Space in the Bathroom
Having a large space in your bathroom is always loved. But it can't always be done by adding square footage. To get an expansive feeling many techniques and principles can be used. The following principles will help you with this:
For having an illusion that your room has more space you can paint your walls and floors with pale or soft colors. You should not use strong colors on the walls and floor. You can use them on accessories, towels, and decorations.
You can replace the shower curtain or frosted-glass shower doors with clear glass. A replacement with clear glass can help your room look bigger as well as make the shower area open up.
Vanity cabinets can be replaced by a pedestal or wall-mount sink if alternative storage or a linen closet is present. You'll start feeling the room is large if you have more space on the floor.
Recessed lighting can be used if there is no way to let in the natural light. These recessed lights don't make your room look smaller and are even unnoticeable. It can help in focusing on any task area. You can place it anywhere in your bathroom.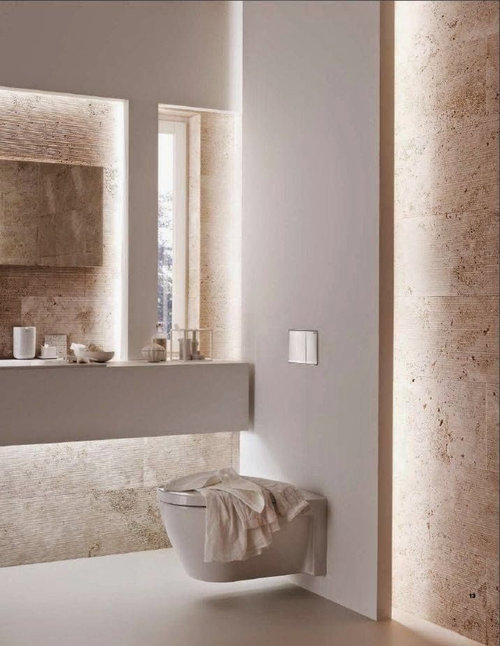 You can embellish or decorate the ceiling to make it attractive by adding a light fixture and crown molding. But you should take care of molding so that it should not cover a large space. For embellishing and expanding a small space you can add other architectural features like wainscoting and chair rail.
To get the natural light of the sun in your bathroom you can install a bigger window. Otherwise, you should open the curtain at least for natural light. If you can: install a bigger window or at least open up the curtains. For this purpose, you can also use window coverings that can partially be unlatched. Jinchan Short Curtains for Bathrooms on Amazon are available to be bought online.
Total Page Visits: 331 - Today Page Visits: 1