When you conclude that a pedestal sump pumps is the best choice for waterproofing the basement then the task remains to find the best pedestal sump pumps according to the requirements. There are a lot of questions that come to mind, such as which pumps will be powerful enough to keep the basement dry, and which will be quiet enough or not.
There are many Pedestal Sump Pump in the market, so it's a daunting task to choose the right one according to the needs. This article contains the best pedestal sump pumps that I found online and a few I tested worked for me. So, you can certainly go with any of the under-mentioned products and waterproof your basement.
Best Pedestal Sump Pumps for Waterproof The Basement
You can select the one from the following according to your requirements: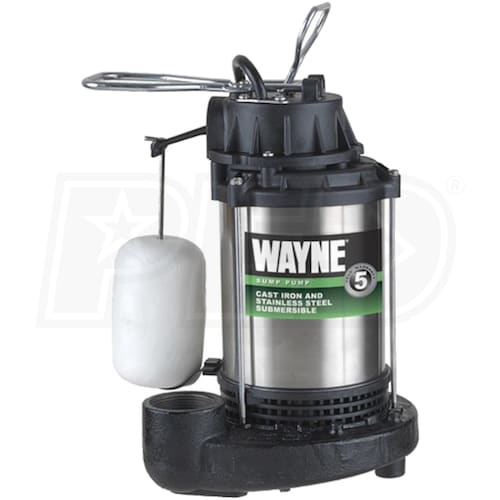 Wayne's unit on Sump Pumps Direct is one of the most submersible sump pumps as it has a top suction pump design, which minimizes air locks and clogging from debris at the bottom of the sump pit. It doesn't create noise so you can sleep soundly with no worries about water and noise. You don't need to worry about how much water you are removing as this Pump can handle it and keeps the home dry. It has a flow rate of 4,600 gallons per hour (GPH).
Must Read: How To Smooth Rough Walls Before Painting
This Pump can discharge 3,500 GPH even when pumping water 10 feet vertically, which makes it one of the best sump pumps for a basement. This ensures a longer life expectancy because a robust pump gets tested to one million cycles. You can install it by yourself without the need for a professional in15-minute. This sump pump gets assembled in the US with foreign and domestic parts. It has stainless steel motor housing and a rugged, cast iron pump base.

Superior Pump build pumps are available on eBay. These last longer and are 100% factory tested. The components of this sump pump are of high quality. It includes heavy-duty stainless steel jacketed shaft seals, double o-ring seals on a motor plate, solid copper motor windings, and electronically controlled split capacitors. The Pump has a 1/4 horsepower motor that can pump up to 1,800 gallons per hour. It is still capable of moving 1,200 gallons per hour even when pumping water 10 feet vertically.
You don't need to worry about little pebbles and leaves ruining the system as this Pump itself can handle up to 1/8″ solids easily. You can install it by yourself without the need for a professional as italso features multiple discharges and hookup options. It includes an intake screen, which filters out debris from entering the impeller and helps in reducing the clogging.
3.Wayne WSS30VN Upgraded Combination 1/2 HP

Wayne WSS30VN combination sump pump system brings peace of mind because of the amazing features. The sump pump, available on Amazon, includes two separate pumps together, one of which is the main sump pump that gets wired into the home's electricity, and the other one is a battery-powered backup. The battery-powered backup one activates when the power goes out, and the main pump shuts off. On a single charge, the battery-powered backup pump can move 10,000 gallons of water as it has a flow of up to 2,900 GPH.
This sump pump will keep your home dry, even with no electricity. It doesn't produce any noise and provides incredible peace of mind with its battery-powered backup. The price of this sump pump is high because of such features. It comes completely pre-assembled and drops in ready, so you don't need to worry about installation. This sump pump gets assembled in the US with foreign and domestic parts.

Liberty Pumps has a unique and attractive one-piece cast iron housing that keeps the motor safe from any sort of exterior damage. It helps in improving its life expectancy. The product is available on Discount Plumbing Outlet, it has a three-year warranty. The motor provides a flow of 3,000 GPH and doesn't produce noise. The motor in this sump pump has thermal protection and permanent lubrication. It is an automatic pump with a magnetically operated vertical floating VMF switch and a 10ft power cord.
The lever of turn-on the switch is 7″ and turn-off level is 3-1/2″. If you want, you can operate this Pump in a smaller 10″ diameter sump pit. It is easily adjustable for different On/Off levels and is not suitable for effluent applications. You should not let the Pump run dry; otherwise, it can be dangerous. 

WaterAce sump pumps are quality water pumps available on eBay that fulfill all of your residential needs. They produce sump pumps for flooded basements to deep well water pumps and everything in between. The best recommendation is the WaterAce WA50CPED if you're going to use a pedestal sump pump in your home. This is the solution to many problems that plague other pedestal sump pumps.
It can pump solids up to a 3/8″ size, which means you don't have to spend time cleaning and unclogging the Pump. This is easy to access the top-mounted adjustable float switch. It provides a high flow rate of 5,000 GPH that shows that it is one of the best. It is very quiet despite the high water flow and easy accessibility of the motor.

You can use this Pump from Zoeller as an effluent pump in a septic tank. It is of 1/3-horsepower able to pass up to 1/2″ solids. The sump pump available on Sump Pumps Direct has a flow rate of 2,580 GPH. It is safe from damage because of the cast-iron casing. This Pump comes with a three-year warranty and it backs up the reliability of this submersible pump. It has a 3/10 HP pump for residential sump pits and septic tanks. This Pump has an automatic model with an integral float-activated switch. It has a cast iron switch case, motor, pump housing, and plastic base.

You can use this versatile multi-flow Pump from Wayne for a variety of applications. This motor is not automatic so you can't leave it plugged in and expect it to sense water and pump it away. If you turn it on, it stays on until you turn it off or it'll run dry. It gets assembled in the US with foreign and domestic parts. This Pump has a multi-flow technology that allows easy selection of the appropriate discharge for the application. If you want water removal from tight spaces such as window wells and buckets, then the top discharge is perfect.
The side discharge available at Walmart is ideal if you want to easily remove water from flat open surfaces such as flat roofs, flooded basements, standing water in the yard, and shower stalls. It can remove water down to 1/16 in for removing water from flooded basements, stock tanks, boats, and even a 5-gallon bucket. This sump pump provides a maximum flow rate of 1257 gallons per hour. It has corrosion-resistant brass discharge outlets with tethered cap seals and can fit any standard garden hose.
Conclusion
When you want something to remove water from your basement and waterproof it, you can go for sump pumps. Some of the pumps are automatic, which means they turned on and off automatically according to the situation.
This article provides you with information about the best sump pumps. Some of those are not automatic though, which means you have to turn them on when needed. You can select the sump pump motor of your choice by comparing the features, pros, and cons of each. We hope, these products will be beneficial for you while waterproofing the basement.
Total Page Visits: 276 - Today Page Visits: 4