When you have a home office, you always want it to be organized as a cluttered workspace makes for a cluttered mind. The home office makes you feel stressed when there is a huge stack of papers, files, accessories, and general clutter. It is hard to think in this mess, so you need to organize everything in a good manner.
When you have an organized office with all the junk of files and papers cleared, it makes you feel better and less stressed. You'll be able to think better and more productively to get innovative ideas. It may be hard to organize things, but there are many solutions for storage that can help you to do this task easily.
If you just visit Amazon or eBay and do a bit of research, you can find such amazing equipment. for your convenience, we have organized a list of the best office equipment.
Best Home Office Organization Ideas
The following are some of the best, most adorable, and inspiring home office organization ideas that will help you to organize your home office.
The Dual-Sided Multifunctional Desk Pad protects the desk from scratches, stains, spills, heat, and scuffs as it is made of durable PU leather material and is waterproof. This desk pad provides a modern and professional atmosphere to the office by being on your desktop.
You can get the same material desk pad in different colors on each side. It has a special design that allows you to use it on both sides so you can turn it over and utilize it. The smooth surface of this desk pad is perfect for the home office, and you enjoy writing, typing, and browsing.
This desk pad has dimensions of 31.5″ x15.7″ which can accommodate your laptop, mouse, and keyboard easily. There is more stability for everyday use because of the non-slip material. You can simply wipe this desk pad surface with a wet cloth to clean it. This desk pad is made of water-resistant and heat resistant material.
There is no unpleasant smell, and it has tasteful synthetic leather which gives elegance to the workspace. This high-quality product comes with a one year warranty so you wouldn't be dissatisfied with this product.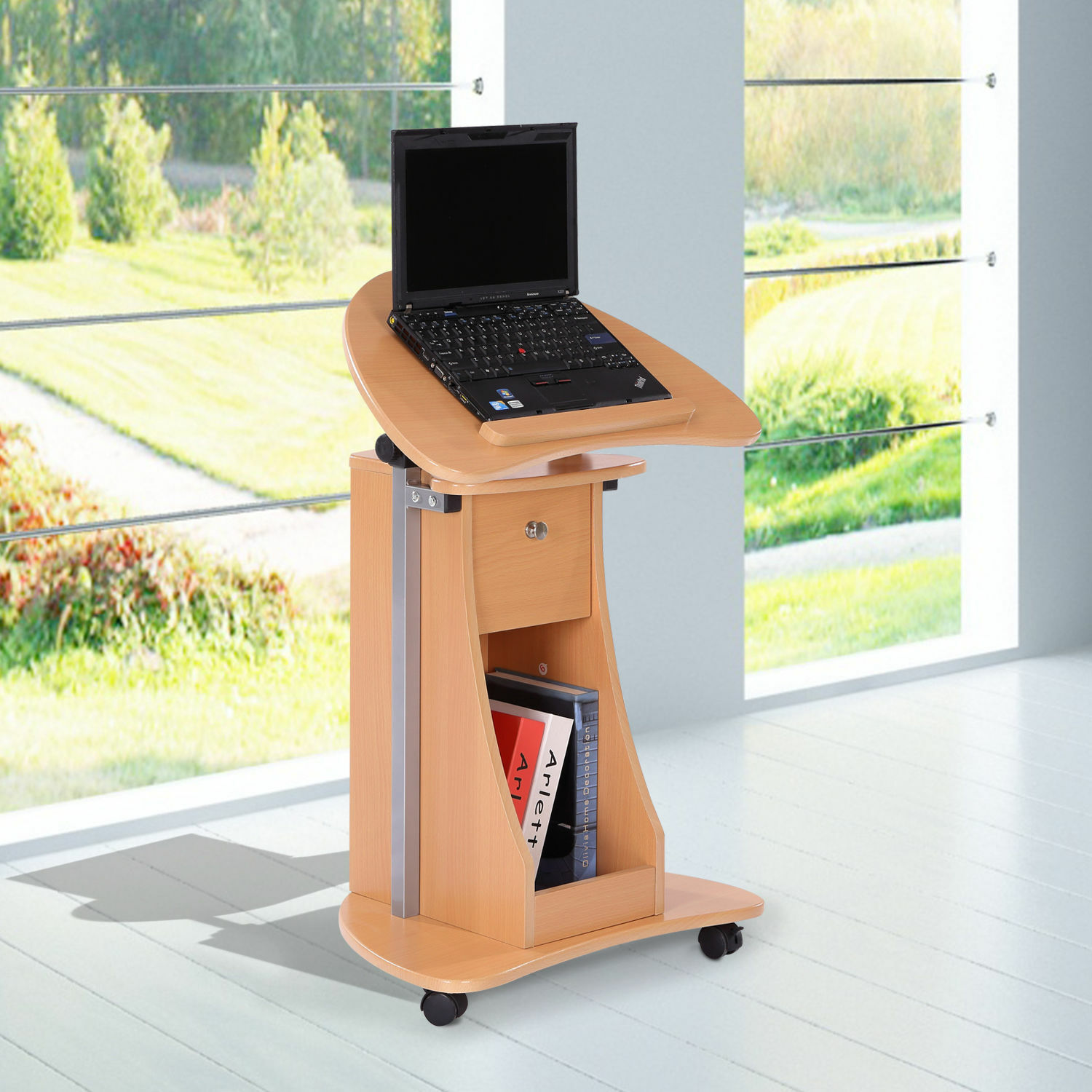 Product Description
Adjustable Laptop Notebook Desk Table isheight adjustable which means you can raise or lower the height of this table quickly and effortlessly. You can adjust it from 26 to 43.7inch, which makes it work comfortably. It is up to you to choose to sit or stand for work. It is moveable and lockable as it has rolling wheels which add flexibility for the laptop cart moving around the house.
There are locking casters by which you can make the cart stationary or mobile in the time of need. This table is suitable for a workstation, home living room, bedroom, office, lecture, or home office.
Must Read: Best Home Intercom System
The overall dimensions of this table are 21.75″ x 15.75″ x 30.5″-46.3″. It also has an additional storage cabinet which is an open storage room under the desktop. It creates additional space where you can store books, studying materials, magazines, documents, and other daily necessary items. It makes it easy to find such things close to hand.
This table will last longer as it is made of heavy-duty particle board which ensures durability. It is really easy to clean this table with a damp cloth, and it does prevent daily scratches. You can easily install it by reading all the necessary hardware and installation instructions. If you are interested in buying this product, just visit eBay online and buy it today!
Product Description
Amazon Basics 12-Sheet Cross shredder quickly shreds confidential information or multi-page documents up to 12 sheets at a time. You get strips of size 7/32 by 1-9/16 inches after putting the papers in the machine quickly. This machine is useful to destroy every piece of paper that includes personal information such as ATM receipts, mortgage statements credit-card bills, insurance packets, pay stubs, and other old information.
You can also get rid of expired or unnecessary cards with this machine as it destroys credit cards too. This machine helps you to save your identity, so there are fewer chances to fall victim to identity theft. It is really easy to use this shredder as it has an auto mode in which shredder starts shredding the things as the sensor detects something to be shredded.
After shredding, it drops the shredded paper into the 4.8-gallon bin below. It has an anti-jam auto-reverse, which reduces the clear paper jams. It takes 30 minutes to cool down, but before that, this cross-cut shredder will run continuously for 7 minutes.
The shredder will start heating if you continue it to run beyond the max running time. It will automatically shut off after it starts to overheat to protect the motor. You can easily lift the shredders handle when you want to empty the bin below. There are different types of shredder that provide different levels of protection. The dimensions of this shredder are 13.3 x 9.3 x 14.6 inches.
Product Description
Simple Houseware Mesh Desk has a space-saving mesh design with a stylish drawer. There is no need for tools to assemble it. You can store the necessary things in the home office in this organizer. It has useful storage which includes two side load letter trays and a tray with a three-compartment drawer. In the upright section, there are five 2″ compartments.
There is a desk storage, file folder, and letter organizer in this organizer. Simple Houseware is the brand that provides this mesh desk organizer, which weighs only 1 pound.
It has dimensions of 5 x 5 x 5 inches. This product comes mostly pre-assembled except for the plastic tabs to secure everything together. It has rubber bottoms to ensure that there is no slippage. This product is sturdy enough to hold the belongings. Again, Simple Houseware Mesh Desk Drawer can be found on Amazon after making an effort with a few clicks online.
Product Description
FITUEYES is a manufacturer and brand owner who has completed brand registration with the U.S. Bureau of Commodities. This brand provides things such as furniture and electronics for the office. FITUEYES Printer Stands is a multi-purpose desk organizer that is great for printing. It has a strong structure and great storage to keep things near you.
This product provides great storage for files, documents, books, magazines, literature, and other supplies. You can use it or place t anywhere in your home, office, or school because of its versatile design. It is easy to assemble, maintain, and moveable.
You can easily clean the surface with a soft cloth. It makes life more simple and convenient because of easy cleaning and features. You can easily operate it without any effort and don't produce noise. It has non-slip rubber feet and structure to protect your work surface from scratch and wear on.
This product is of high-quality sheet and has a flat surface solid, dirty, double matte black surface. You can use the storage space of this organizer in the study, kitchen, and living room or office with a useful and smart design. Visiting Amazon's online store and buying this product can make your home office look classic.
Conclusion
If you are thinking of designing a home office and you need things to organize the mess, then you should go for the home office organization ideas. These ideas will help you to organize the office in a great way which will make the surrounding better. In reply, you will feel good working there. A good environment will help you think of good and innovative ideas.
The products mentioned above are some home office organizing ideas that will help you to make your home office better and innovative. So, what are you waiting for? Just visit Amazon or eBay today and make your dream of buying the best home office organization equipment come true.
Total Page Visits: 323 - Today Page Visits: 3