DIY home renovation videos are one of the most-watched content on YouTube. This is because everyone wants to save money while making subtle changes to their house internally and externally. Although we always preach about getting a professional to carry out any kind of renovation, we do have a soft corner for small DIY projects that you can undertake yourself. This includes repairs as well as setting up new installations, be it tiles or external lighting. However, you will need certain tools in order to complete the desired work or solidify your home renovation ideas. We have come up with the 8 most essential and effective DIY renovation tools that you must have in your garage, especially if you are a DIY enthusiast and often find yourself amongst a DIY project.
Measuring tape
This is by far the most needed tool in your toolbox arsenal. Most importantly this is something that you need even when you are not taking up a DIY home renovation project. The general-purpose tool can be bought from any Homedepot shelf or order the Pro Grip Version online from Amazon. While selecting a measuring tape, alwaysgo for the one which has a stop button so your measurements remain intact once you are through with the measuring part.
Hammer
Another important tool in the DIY box is the hammer. From hammering in a nail on the door to actually fixing the door swing by knocking in the hedges, it does everything required. However, with electric hammers in the market as off the shelf solutions, the traditional hammer is going out of fashion. However, we suggest that you have both of them inyour DIY home renovation tools. Get the stubby claw hammer from Amazon and never look back on your hammer choices.
Drill machine
Most of the DIY projects are never complete without a hole. The hole here refers to both figurative and literal meaning. The figurative hole you have left can be filled by a professional but a literal hole can only be made with a proper drill machine. You can get yourself the simple wired Black & Decker corded drill machine from Amazon.
However, the professional now prefer a battery-operated wireless drill machine with 30 piece accessories available on Amazon.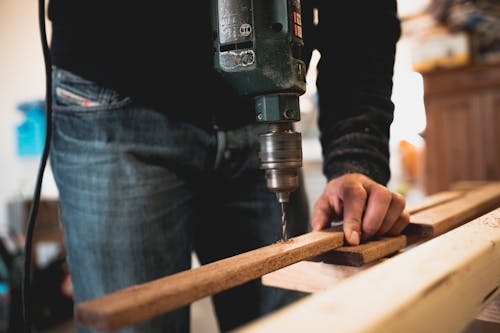 Leveler
A speed square may help you put the right mark before you saw or drill bit you can straighten things out on the fly with a proper leveler gauge. There are many electronic versions available in the open market now. However, we still suggest the use of a basic leveler gauge with an air bubble in it. The simpler it is, the easier it will be for measuring the level once you are between DIY jobs. You can get state of the art bubble + digital Wixey from Walmart.
Pliers
There are a number of pliers available in the open market that can suit your needs. However, you do not know which kind of pliers will be required at what point in time, The variety can range from slip joint, snub nose, needle nose, cutter, crimping or pincer pliers. Therefore, it is better that you get a complete set that has all the varieties available. You can get yourself a basic set that is Stanley 4 piece pliers set or the professional Irvin-vise Grip which is available at Walmart.
Ladder
You can't really reach high places without a ladder for your DIY home renovation projects. There are a number of ladders based upon height and functionality. However, getting a ladder that doe not fit in the garage or the store is a useless act. Moreover, always try to go for two feet ladder that can stand on its own without the help of a wall. Also, look out for ladders that are comfortable to stand upon and you don't lean on one side while working. You can choose from a number of versions available online at Amazon ladder collection.
Saw
A number of manual and machined saw types are available for you to have. This is an essential tool to have. However, this is dangerous as well so it is better that you get a little practice outdoors before you start using it at home. You can choose from the straight saw and a circular machine saw. The circular saw is best for repetitive jobs and sawing precisely on size. You can get yourself a professional SKIL Beam Laser Saw from Amazon that works well for both DIY and professional projects.
Set of Screw Driver or Automatic cordless driver
Screwdrivers are the most commonly used item in any household be it for everyday use, fixing things or for a project. A DIY project is not possible without a set of drivers. A basic set of screwdrivers can be procured from Walmart that goes by the name of Stanley model. However, you can always move on to a battery-powered driver since it saves time and screws in perfectly. A number of options are available on Amazon that includes the Black & Decker cordless screwdriver which stands out.

There are many more that can be used that make to the top 10 DIY home project tools but if you have the above 8, you are good to go for most general projects. However, for specialized projects, you will require specific tools. Buying them can be a fruitless exercise since you invest in them and use them once only. Therefore, it is far better to hire a professional who comes up with his own tools and saves you time and money at the same time!
Total Page Visits: 217 - Today Page Visits: 3