Some home renovations are necessary but some are basedon the current trends and DIY home improvement videos with a billion views. This may not be the right choice every year, but sane enough after every couple of years. Moreover, it is not entirely essential to completely revamp your house under the banner of Home Care as you can always add subtle changes that are not heavy on the pocket but bring about a pleasant change to your home interior and at times exterior as well.
Lamps
Lamps have been the aura of corners forever in our homes. However, it is time for them to take center stage and modern design dictates the inclusion of lamps in your home. Not only they change the lighting landscape but they also enhance the single viewpoint the moment you enter the room. A number of lamps and types can be used for this specific purpose only. They include table lamps, mushroom lamps, hanging lamps, mushroom lamps and especially paper lamps that can be hung easily and removed when not required. Most of these versions can be found off the shelf at your nearest Home Depot.
Fur Boucle Chairs
Again, chairs have been a part of our home décor since we can remember. However, the old chairs must and should be replaced by modern Boucle chairs. The design movement has been led by some top brands and re-branded by high-end stores like Home Nature, which has made them the most asked about products online and in stores. The fur Boucle being the leader of the group as it provides high-end style without much cleaning work. Nor are they easy to maintain but a potent chic solution. It is now being considered the focal point of your most sitting environments at home but neverlooks bad in your bedroom either!
Minimalistic tables
Once again we at Housner believe in suggesting solutions that are already partly implemented so a DIY home improvement project does not become a money-sucking Dracula with minimum results. A minimalistic table like plinth tables or simple single sheet tables is need of the hour. Not only can they be transported easily, but they can also be used in various spaces. Chic designs and a large variety can be found at any IKEA store near to your home.
Since minimal designs with super skinny legs have been in fashion over the past few years, it is natural that the new trends will dictate the return of low height low-slung pieces. A plinth table is an ideal example of such a piece of furniture that easily blends in with your old furniture.
Four post beds
Now, this is where we go in the experiment zone for the design changes that are suggested for the years to come. Traditional beds are being replaced by four-post beds and you will see this a lot in interior design and home care journals. There is something regal and king like about a four-post bed and this is exactly why we suggest getting one as a treat to yourself. Whether you look for a king like a wooden structure or a sleek modern metallic frame bed, you can find them all. Just be careful to blend them with the current setting of your room. A complete range of style and color can be found at Home Depot which makes it easier to browse online and in the store before you put it up in your bedroom. Be careful about the height of the post as some new designs encourage low roofs which can be a problem once you set it up!
Bouncing lights
The era of flashing light on every corner and look worthy place in your home is gone! Home renovations are now incomplete without lights that are bounced rather than flashed. Modern Home Decors dictate the use of reflectors which make the light fall indirectly on the environment. This includes indoor and outdoor lighting both! Therefore, if you need a quick solution for uplifting your home, then redoing the outdoor lighting is a must. Moreover, remember to use warm lights only as they are not only energy-efficient but also provide an overall soothing experience. A wide variety of lighting fixtures and accessories can be found at wall mart.
Vertical Spacing
This is the trend that has been peaking since 2010 and may never stop with the size of real estate shrinking every day. Therefore, storage spaces (in the kitchen, living room or bedroom) are going out of stock really fast. The best solution to counter this problem is by utilization of vertical spacing. Not only does it provide 3 times space but it also saves valuable floor space that you can use to implement other home décor ideas.
90% White 10% Color
Another reason cited by people requesting a home renovation loan is because of the change in the color of the walls. Gone are the days where you could just leave the wall with old wallpaper or dusty dull colors painted ages ago. Modern home décor dictates the use of white color as a dominant factor in your home. Not only is it easy to maintain but also combines with reflective lighting with ease. Moreover, 10% can always come from wall hangings, furniture and ground accessories that will complement the overall white effect environment.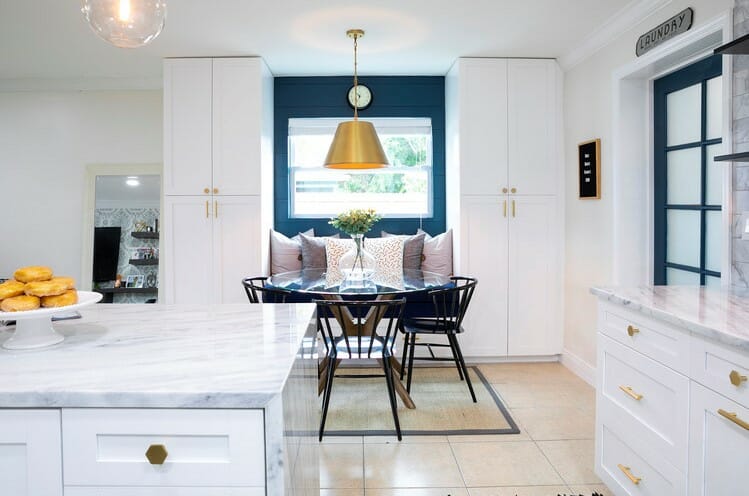 Therefore, if you need to suddenly put your guests in awe with a home décor scheme without doing the whole DIY home projects, you can simply invest in the seven objects explained above which do not cost an arm but brings about a sudden pleasant change in your home. However, remember to go for a combination that suits the already created environment (unless you are changing that too). A store pattern wallpaper will not give an aesthetically pleasing look if installed in a room with a wooden theme. You can always hire a professional to do the small changes as well as opposed to hiring them for large projects only! Happy changing!
Total Page Visits: 301 - Today Page Visits: 3