Overview
It might be time to fix and improve your closet if you shy away while dressing up each morning. It can be anything as simple as adding a splash of color to make your closet look beautiful and enjoyable place. You want your closet to be in the best shape as you use your closet daily. In this article, we will show you some of the best ways that worked for me while improving my closet for your inspiration. I will also recommend some of the best products and stores like Alibaba, Houzz, Amazon, etc. where you can get products to make your closet great.
10 Proven Ways for Closet Improvement
Clear Your Closet Out
One of the first things to do while improving your closet is to clear it out. You can start the best path to a new and improved closet by starting fresh. Clearing everything allows you to assess and know about everything about your closet. In this way, it will become easier to get the idea of the possible ways to improve the closet. That's what I did as the first step to make my closet attractive and eye-catching. If you are looking for new closet designs, Modern Wooden Closet Design will be a great choice, which is available on Alibaba's online store.
Hanger Color
Another thing you can do to improve your closet is by choosing a uniform style hanger in the same color. This is what I did to make my closet awesome. It will help your eyes to be more focused on clothing. It isvery important to make your closet a place of pleasure as you spent a great amount of time of your life there. It can be done by adding a colorful rug and wallpaper on the wall if you have the room. Tosnail 60 Pack Plastic Children's Hanger on Amazon is perfect for those looking for colorful hangers for the improvement of their closet.
Install Hooks and Add Baskets
One of the most cost-effective ways to improve your closetspace is the addition of hooks. These hooks allow freeing up drawer space by hanging items like ties, scarves, or belts on hooks. I did that and turned the walls into storage. Additionally, you can give your closet a streamlined look by organizing loose items on your shelves in the baskets. I just grouped like items in each basket and it always helped me to remember the location of everything quickly and easily. Closet Basket Liner on Houzz is our recommended choice.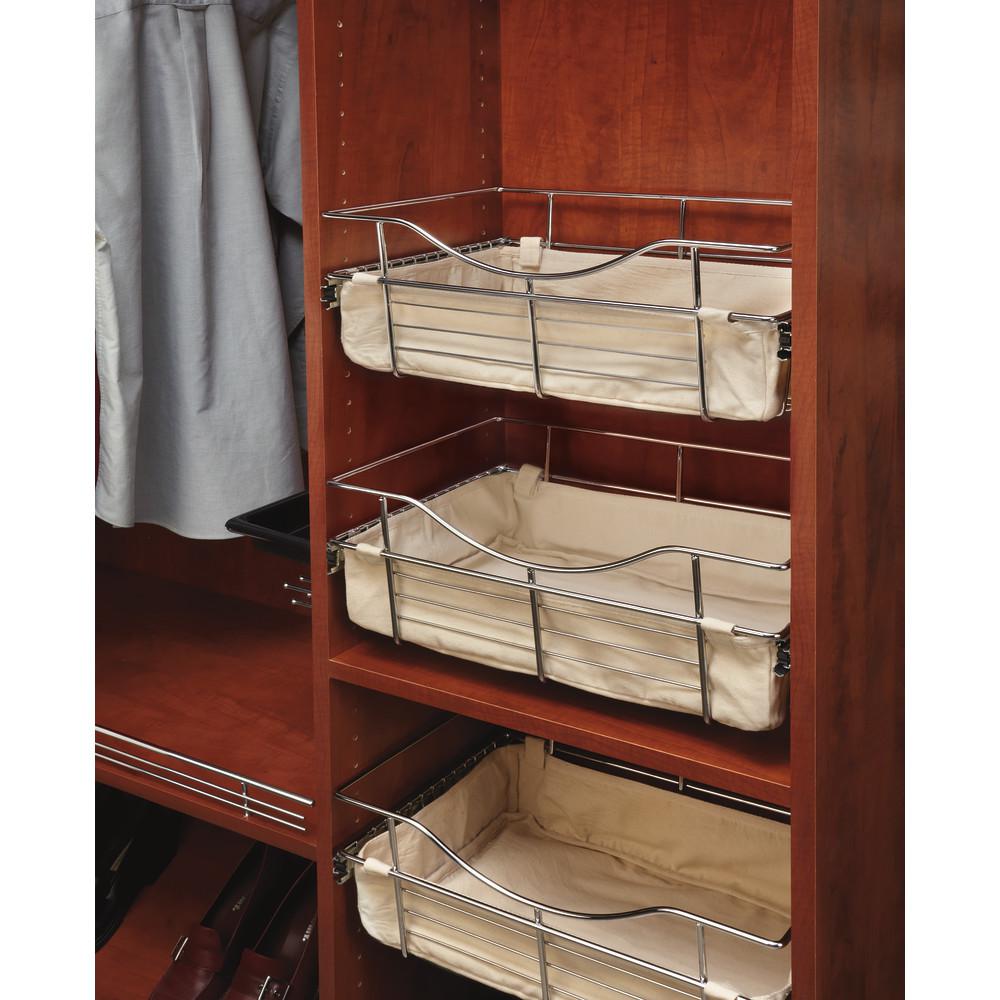 Make A Distinction In The Heights Of Your Shelves
Shelves of different heights are required to ensure a proper home for everything in your wardrobe. I did so as I knew it looked messy stuffing too-tall items into too-short spaces. This, in turn, gives your closet an undesirable look and you continue feeling frustrated. Easy Assemble Plastic Closet Shelves are one of the best options available on Alibaba for those looking for variable height closet shelves.
Try To Equip Your Drawers With Dividers
I equipped my drawers with dividers to make it possible to assign each item its proper designated place. Everyone knows how frustrating it is to keep searching for a drawer for the right socks or T-shirt. The best way to avoid this is by using dividers. In this way, each item will have its designated place and your life will become easier. It is a great improvement you can make in your closet. If you are serious to equip your drawers with dividers, an Adjustable Grid Drawer Divider can be a perfect choice for you. It is also available on Houzz.
Keep The Jewelry Organized
It is the wish of everyone to see their jewelry organized and in proper order. It also makes the process of finding and accessing the desired item easier and fun. That's why I invested in the jewelry organizers, which helped me a lot in improving my closet. Just visit Amazon and get BB Brotrade HJO80 Hanging Jewelry Organizer to organize your jewelry items effectively.
Hang Mirrors
Hanging mirrors is another way to improve your closet. A huge walk-in closet is not needed for this trip to be applicable. It is quite obvious that hanging one on the inside of your closet door will work perfectly and do the trick. Just go to Alibaba online store and get Classical Wall Decorative Hanging Mirror today.
Make Your Lighting Perfect
Lighting is very important everywhere, especially the right lighting in a closet is a must. Make sure to have a mixture of task lighting and overhead ambient lighting for any appropriate areas such as vanities, etc. So, the right lighting can certainly improve your closet as it did in my case. Wireless Motion Sensor Closet Lights are the best option available on Amazon.
Sneak In A Hamper For Attractive Closet
An accessible hamper is needed for every attractive and great closet. However, there is no need for it to be an ugly thing. These tilted hamper drawers make doing the laundry easier by blending right into the scenery. New Design Bamboo storage drawers tilt out Hamper available on Alibaba.
Make Your Closet Like A Store Display
After doing everything right to improve your closet, this is the time to move everything back into your closet. This is the time to think clearly and arrange your wardrobe like a display. Keeping everything that belongs to you in the view is essential. That is what I did to improve my closet and it worked perfectly. If you don't do so, you may forget you ever bought it. Set up your closet like you are styling a store. In this way, you will make your closet even more promising and attractive. That is what I did and it worked for me. Hence, it will work for you. Our recommended option is IRIS USA Metal Garment Rack with Wood Shelves on Amazon.
Some Additional Ways to Improve your Closet
Here are some additional ways to improve your closet as I found these things helpful for me practically.
Organize your shelf space with the help of dividers which help keep things in their right place.
Squeeze the extra space by storing your shoe toe-to-heel.
Create a workspace within your wardrobe!
Use old CD racks to store shoes.
If you iron your shirts last minute, the ironing board drawer can help you out.
Mini storage bins and hooks can make things fancy and also provide you with space to engage with different items.
You can double up on hanging rods by dividing your vertical hanging space according to the length of the items.
Building a walk-in closet in your bedroom is another innovative idea.
Try to have a pretty vanity in it if you have a walk-in closet and are putting it in a shelving system.
Total Page Visits: 344 - Today Page Visits: 1