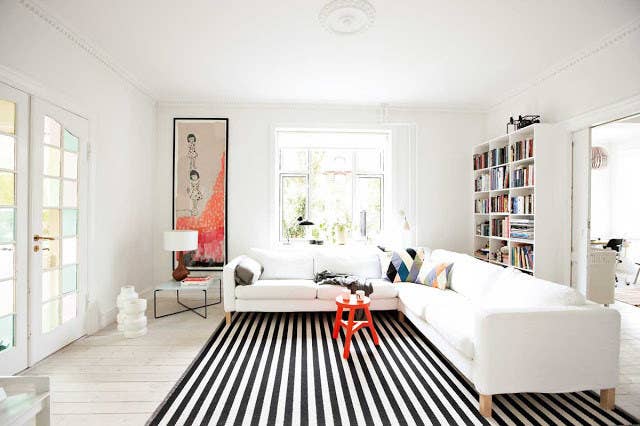 Not each one of us have big, airy rooms but all of us want to have an illusion of spacious rooms. There are even cases where large rooms also look small because of misplaced items, clutter or something like that. You need to move out of your comfort of the messed-up room and work a little to make your room look big. Just minimal time and effort can give a bright, light and airy look to your small space. Below mentioned are some tips for the same:
1. Rearrange your furniture: A badly placed furniture can give a complete cluttered look to the room. When the furniture is well arranged, it can make your room look lively and airy. Make sure the furniture of your room is not blocking any sunlight. If it does, you need to rearrange it. Also, keep in mind the color of the walls of your room while selecting the furniture. You don't want it to look out of the place because of its color. You can look at the modern furtinute pieces like the Ksawery Rocking Chair from wayfair.com
2. Shelf-smartness: Shelves are important for better organization as well as spacious look. Consider having a floor-to-ceiling or wall-to-wall shelf. This will make the ceiling look high and also provide you with enough space to organize items. However, don't fill up every exposed area of the shelf. This will make the room look starve to breath. Leave some empty space and give your room an airy look.
3. Clear the clutter: It's very important to de-clutter relentlessly when living in a small space. You have to get rid of things that you haven't used for too long and things that you won't buy now. Knowwhat needs to be piled, what needs to be recycled and what needs to be used as a charity. You can do this by getting vertically spaced closets like the Grid 96″ W Basic Hanging Closet System from wayfair.com. 
4. Keep things organized: Organized room looks clean, tidy, beautiful and spacious. A messed-up room makes the room look filled and out of space. So, to give an airy look to your room, you need to fold all your clothes and keep them in cupboard and place everything in the place where they belong.
5. Use multipurpose furniture and hidden storage: Furniture that can be used for various purposes and furniture that allow hidden storage are your friend. Get ottomans for coffee table as well as extra seating. Or consider box beds or box tables to organize several items in the hidden space.
6. Clean your windows: Seems weird? But yes, this trick actually works. Clean windows not only make your room tidy but also gives a spacious look to the room. With clean windows, maximum sunlight is allowed to enter and lighten the room naturally. So, clean the windows, inside out. Use Windex Outdoor All-In-One Glass Cleaning Tool Starter Kit from Amazon.com for this purpose. 
7. Mirror magic: "A wall covered in mirror is a classic solution." True enough. With mirror on the wall, you can reflect the sunlight that you have all over the room. This reflection makes the room look brighter and bigger. Try having an oversize or large mirror in the room. If not a large one, you can choose to have a number of pieces with frames painted the same color for better coordination.
8. Swap outdoors: For a room where every centimeter counts, you can't let doors eat the maximum of valuable space. Removing door might sound weird but it works. The room that doesn't require a lot of privacy can go for this. Or you can even choose to install sliding doors which demand no extra space. Consider having glass sliding doors as glass makes the room look spacious.
9. Lighting: Lights draw our eyes and so they play a major role in the appearance of your room. Overheadlights take our eyes to the ceiling while other decorative light sources like wall lamps, table lamps and candles will emphasize the space area of your room. You can get a sexy over head lamp like the Hinkley Lighting – 4364KZ – Rigby – 7″ Three Light Chandelier from 1stoplighting.com. 
10. Clever decor: After everything is done, it's time to add life to your room. Use your creativity and make your room spacious. Use a big piece of art and hang it on the wall behind the sofa. Select the right piece of dining table. Use light material color coordinated curtain and hang them strategically. Go through our "additional information" section for more such ideas.
You need to keep in mind all the above-mentioned points while arranging your room. However, there are small things too that contribute towards the spaciousness of the room. Here are some additional points you should consider:
Choose long, sheer drapes for your room. Also make sure that they are of the same color as the walls.
A striped floor can also make the area look bigger. The combination of black and white works the best.
When choosing furniture and fittings, carpets, ornaments and curtains for your room, get them in different shades of the same color. Contrasting colors can make the look smaller.
Let your sofas and TV stand on legs keeping the floor visible as much as possible. This will let the light flow underneath and make the room airy.
Get a rug with small repeats and use a different rug under a different piece like one below an armchair and one below the coffee table.
Choose wall lamps over table ones to add more space to the room. Place them in the corners of the living space.
Consider mounting your TV in the living room rather than getting a table for it. The less space it takes, the more spacious the room looks.
So, these were some additional tricks to that make the room look more spacious. Now why wait? Head forward and transform your small house into a big one.
Total Page Visits: 232 - Today Page Visits: 1