Home Renovation Ideas are one of the most searched terms on the internet in the last decade. DIY home renovation comes next in one of the most search queries on Google. However, the world itself has moved from wholesome changes on the property to subtle changes that bring about a whole new perspective. Although, the need for wholesome home renovation ideas will never go out of fashion due to sheer necessity. We look at 10 best home renovation ideas that will improve your house, not only aesthetically but from a practical point of view as well.
Addition of Energy Efficient Windows
Normal windows are a thing of the past when it comes to home renovation ideas. Getting a new one installed or replacing the old ones is entirely up to you. However, the fact that you should always consider is that these windows like the Energy Star Storm Window that you can get from Energy Star can save you up to $500 a year in a small household. The larger the area, the more you save!
Architectural Lighting
Before jumping into technical details, one must understand architectural lightings. Traditionally light sources are placed in the open, directly pointing towards the floor. In architectural lighting, the source is concealed and space is illuminated by lighting bouncing of an additional surface like the roof, floor or the wall. This creases an elite ambiance that is difficult to achieve even with expensive lighting and attachments. Therefore, rule #1 should always be to bounce the light at least once! One of the best examples for the light you can use for this Big Shine LED Panel that comes in more sizes for concealed lighting solutions. Different sizes and options can be purchased from Big Shine LED online.
Vertical Spacing
This is the trend that has been peaking since 2010 and may never stop with the size of real estate shrinking every day. Therefore, storage spaces (in the kitchen, living room or bedroom) are going out of stock really fast. The best solution to counter thisproblem is by utilization of vertical spacing. Not only does it provide 3 times space but it also saves valuable floor space that you can use to implement other home décor ideas. One of the best ready to install solutions includes Homedepot's Shelf Wood Closet from Homedepot which saves tons of space.
Bathroom Renovation
This is usually one aspect of the house that is catered for largely at the end as the portion is hidden from the usual home vision. However, research shows that the most damaging and costly solutions are prepared for the bathrooms since water effected damages are reported the most. Furthermore, a deteriorating bathroom never compliments your home even if you completely remodel it. Therefore, go for a professional bathroom repair/renovation job that gives timelessness to your bathroom fittings as well as the complete structure. A large variety of bathroom fittings and accessories can be purchased from Homedepot.
Floor Renovation
The essence of renovating or redecorating your house beautifully yet inexpensively is to devise a goal for yourself, and paint an entire picture of what you want and then step by step renovate each part of your house like mentioned above. Moreover, the floor should be the first thing you imagine based on its texture or color. However, if you are going all out than a floor renovation plan is always a good thing to have at the top of your home renovation checklist. A number of tile and flooring options are available at Homedepot or Floors USA.
Curb Uplift
You can easily research your way to a home renovation and curb uplift through a design magazine or DIY video. However, please note that both those places show techniques that are applied by professionals. Therefore, you can end up spending a lot more money than required without attaining the result you had in mind. Therefore, always bear in mind that any kind of home improvement involving a handsome amount of money should always be carried out by people with experience of home renovation and development. Let them do what they are good at!
That Dreaded Garage Door
Garage doors in general and all external doors, in particular, are largely neglected part of any household. However, do remember that this is the first thing that is noticed about a house. Therefore, a renovated or new garage dooror entrance door is the way to go. You can check out Tierra (wooden garage door) or check out the complete collection at LUX garage doors.
External Landscaping
A bad garage door may go unnoticed but if you have a large exterior landscape on your property, it may not go unnoticed. Proper landscaping, curb development and lighting for the night time a few essential renovation hacks that can lead towards a beautifully landscaped house.
Finish Your Basement
A basement is one part of the house that can add a huge amount of space in the actual house since a basement can be used as a den, gym, kid's room or even a large storage space. However, if you consider adding a bathroom to the basement once you remodel it, it just adds value to the whole space. Make sure you keep the basement as open as possible so it doesn't turn into a dark and wet dungeon in the rainy season. An estimated quote can be obtained from Finished Basements before you start pouring in DIY ideas.
Kitchen Renovation Is Always A Good Idea
The kitchen renovation can add supreme value to your home. However, you need to be careful about the cost and quality ratio of the material used while remodeling. Kitchen table tops take the most amount f budget so you can always go for Lorell, a utility top that can save you cost and serve the purpose as well. Similarly, you can cut costs through affordable material, cabinets and DIY kitchen renovation projects. Small additions like bouncing lights as well as a small window will not only save you on your utility bills but also adds aesthetics to the most used area of the house, your kitchen.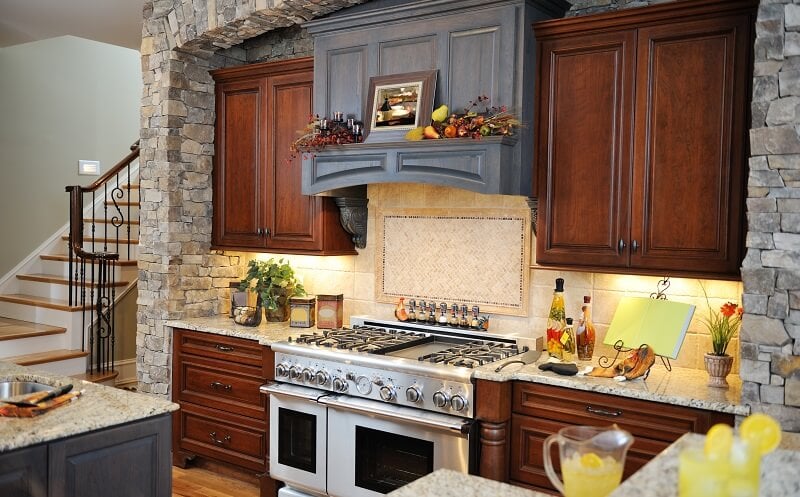 Therefore, if you are looking for a complete remodel of your house, then you should start your research with the 10 most considerable options listed above. Make sure that you get professional help whenever the remodeling/renovation budget goes south of $5000. This is contrary to all the DIY home renovation ideas you may have but hiring a professional based upon project or the complete gig always saves you money in the long run as the work comes with warranty and professional touch. Do not hesitate to go through the internet before you make a decision or a purchase. The power is yours!
Total Page Visits: 494 - Today Page Visits: 1